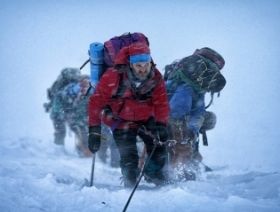 Despite the fact that 2015 has started out so forgettably, there is much still to come that could make this year quite memorable. Here are the movies I'm most looking forward to and why—in no particular order (release date in parentheses):
THE MAN FROM U.N.C.L.E. (August 14): I don't know why, but I've always rooted for director Guy Ritchie to have a hit movie. This one could be fun. At the very least, we'll get to see if Henry Cavill can act without the cape. The Man From U.N.C.L.E. trailer
CHILD 44 (April 17): The bad: an untested director (Daniel Espinosa) and an April release date. The good: Tom Hardy and Noomi Rapace. I'll give this Stalin-era Soviet Union thriller a chance, just to see these two work together. Child 44 Trailer
MIDNIGHT SPECIAL (November 25): After the amazingly brilliant Take Shelter, I said whenever and wherever director Jeff Nichols and star Michael Shannon reunited, I would be there.
SISTERS (December 18): Amy Poehler and Tina Fey movies have so far been a miserable failure (except for Mean Girls, which, really, doesn't count), so I don't have high hopes, but a December 18 release date looks promising…albeit a bit confusing.
THE HUNGER GAMES: MOCKINGJAY, PART 2 (November 20): The big finish.
CAROL (TBD): A Todd Haynes movie about a romance between two women, who happen to be played by Rooney Mara and Cate Blanchett? Yes, please.
EVEREST (Sept. 18): An incredible cast, led by Jake Gyllenhaal and Robin Wright, star in a thriller set during a massive snowstorm on the world's tallest peak. As an Everest, Gyllenhaal and Wright junkie, consider me hooked.
INSIDE OUT (June 19): A Pixar original (from the director of Up and Monsters, Inc) is always something to look forward to. Inside Out Trailer
BRIDGE OF SPIES (Oct. 16): Steven Spielberg and Tom Hanks bring us a Cold War spy movie…..um, ok, I'll give it a try.
THE REVENANT (Dec. 25): Alejandro Gonzalez Inarritu follows up his Oscar-winning Birdman with this 1820s adventure drama starring Leonardo DiCaprio and Tom Hardy. Not bad.
JURASSIC WORLD (June 12): I loved the original so much, I'll give this one a shot, although I do have concerns it will be too much of a re-tread of what made Spielberg's movie so original. Still, what's a summer without dinosaurs? Jurassic World Trailer
BLACK MASS (Sept. 18): Is Johnny Depp's career too late to save? We'll see as he plays Whitey Bulger in this true story of South Boston's most famous criminal.
HATEFUL EIGHT (Nov. 13): Tarantino. 'Nuff said.
SPECTRE (Nov. 6): Bond…James Bond.
MAD MAX: FURY ROAD (May 15): If the movie is even a third as good as this most-incredible trailer I've ever seen, then blow it all up, I'm there. Mad Max: Fury Road Trailer
STAR WARS EPISODE VII: THE FORCE AWAKENS (December 18): Rebooting a franchise, rebooting my childhood. You could say I'm excited, along with a billion other people.
Star Wars Episode VII: The Force Awakens Teaser trailer
THE PEANUTS MOVIE (Nov. 6): Probably the only thing I have fonder feelings for from my childhood than Star Wars is Peanuts. How could Snoopy and Woodstock let you down? The Peanuts Movie Trailer
MINIONS (July 10): On the opposite side of the animated spectrum, we have the Minions, those lovable scamps from the Despicable Me movies, who now have their own feature film all to themselves. We'll see if their whimsy can sustain a full-length movie. Minions Trailer
SNOWDEN (Dec. 25): Director/writer Oliver Stone takes on Edward Snowden, with Joseph Gordon-Levitt playing the infamous CIA document leaker. No matter what, this one will be interesting.
SOUTHPAW (July 31): The director of Training Day, the writer/creator of Sons of Anarchy, and a totally ripped Jake Gyllenhaal come together to give us a working-class boxing movie. If ever we needed a Rocky for our time, it's from these artists and it's now. I can't wait.
JANE GOT A GUN (Sept. 4): Natalie Portman and Ewan McGregor in a revenge-themed Western. Sign me up.
STEVE JOBS (Oct. 9): So many have tried to make the ultimate Apple founder bio-pic, but, finally, I think we've got the one: Danny Boyle directing, Aaron Sorkin writing and Michael Fassbender starring. iTrifecta.
TOMORROWLAND (May 22): This one is still too mysterious for me to really figure out what it's about (which is good or bad), but I'll still chalk it up as something to look forward to due to the fact that it's got director Brad Bird, star George Clooney and writer Damon Lindelof behind it. And its late-May release and huge marketing push means Disney is going ALL IN. It'll be worth checking out just for that. Tomorrowland Trailer
SPY (June 5): Director Paul Feig's last two movies were The Heat and Bridesmaids, so a re-teaming of Feig and star Melissa McCarthy will, hopefully, continue the magic in this undercover CIA comedy. The funny is hard to find this year, so if this one hits, it could really go far at the box office. But, as we've seen, if it bombs, it could reverberate badly for McCarthy's career. I root for success. Spy Trailer