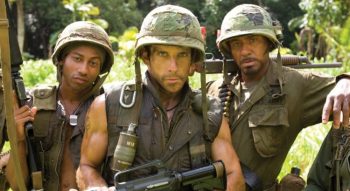 It's only four days in and I already have Avengers fatigue. "The biggest movie of all time" opened on Friday and I really couldn't care less. Avengers: Infinity War has already broken opening weekend box office records, and could be well on its way to breaking every record. And yet, I still have no interest in seeing it. For those of you who feel the same way I do, I thought I might offer some viewing alternatives to fill the time until movie theatres become habitable again.
One of the biggest draws of Infinity War is that it brings together all the Marvel superheroes in one movie. Well, most of those superheroes are played by great actors, all of whom have some fantastic credits in their resume—some you may know, some not. So, in lieu of seeing each of these actors for five minutes (or less) in Infinity War, may I suggest something else from their filmography—something you might like much, much more.
Here are my favorite movies/roles for most of the Avengers, all of which you should seek out, if you've never seen them (and MUST seek out if you've only ever seen these actors in spandex):
ROBERT DOWNEY, JR.
There are many to choose from, and I really love his performances in Less Than Zero (1987), Chances Are (1989), Zodiac (2007) and his Oscar-nominated Chaplin (1993), but I've got to say what he does in Tropic Thunder (2008) is not only jaw-dropping, but truly spectacular. Everyone knows this guy can act, but to act like this? If you've never seen it, and have no idea what it's about, rent it. You won't believe what you're seeing.
CHRIS HEMSWORTH
While I do love him as Thor, I have to tell you he made me laugh out loud in the Ghostbusters (2016) reboot and he impressed me with his actual acting chops in Rush (2013). Definitely more than a pretty face.
MARK RUFFALO
Another alum of the Zodiac school for excellent acting, Ruffalo was also great in You Can Count on Me (2000), The Kids are All Right (2010) and Spotlight (2015), but my recommendation is definitely Foxcatcher (2014), a movie in which he plays third fiddle to Channing Tatum and Steve Carell, and still steals the movie right out from under them.