Whether or not director Joe Wright was intending to make a camp classic with his new film, The Woman in the Window, is unclear, but the result certainly is. The Netflix film, finally making its debut after three years of delays (and the pandemic), has been highly anticipated since it moved from its original October, 2019 release date. Based on a best-selling novel by A.J. Finn, featuring a top-tier director and a star-studded cast, the film seemed a sure awards season contender, but test screenings apparently caused the producers to bring the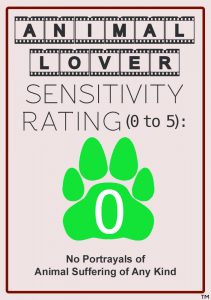 film back for new edits, and now we can see why.
The Woman in the Window stars 6-time Academy Award nominee Amy Adams as Anna Fox, an agoraphobic child psychologist who becomes obsessed with the lives of the family who live across the street from her New York City brownstone. When she thinks she witnesses a murder inside the house but has no evidence to support her claim, Anna desperately tries to get the police to believe her, but, with her history of mental illness, alcoholism and hallucinations, she has a hard time convincing anyone of anything. As her own demons and haunted past threaten to consume her, Anna must find a way to prove what she saw was real and save herself from a psychotic killer.
Admittedly inspired by Alfred Hitchcock's similarly-themed classic thriller, Rear Window, The Woman in the Window tries to forge its own identity by being hyper-stylized, but Wright's overindulgences make the film feel more akin to What Ever Happened to Baby Jane. Adams and the rest of the impressive cast, which includes Academy Award winners Julianne Moore and Gary Oldman, Brian Tyree Henry, Academy Award nominee Jennifer Jason Leigh, Fred Hechinger, Anthony Mackie, Wyatt Russell and Tracy Letts, who also wrote the screenplay, play it straight, but there is no denying the campy thrill-ride this film actually is. From the creaky, multi-story old brownstone to the over-simplified trope characters to the intentionally-stilted dialogue that is just generic (and melodramatic) enough, there is a real throwback feel to this film. If it weren't for the use of smartphones and computers, it would play just as easily in the '70s as it does now. And yet Wright's thoroughly-modern use of effects and playful imagery, including sequences from Anna's overly-medicated hazes, gives the film a truly anachronistic feel, an unsettling cross between past and present, which keeps the audience simultaneously confused and intrigued.
That intrigue quickly turns to something else, however. As The Woman in the Window progresses, its sensibility grows more and more absurd, and the moments that are clearly intended to prompt fear and tension instead inspire an exhaust of laughter as the absurd quickly moves to preposterous, climaxing in a scene that so revels in its horror-bait clichés that it's actually fun. Wright starts to lean into the absurdist and surreal much earlier though, establishing the "is she really crazy?" elements early on, putting the audience in the awkward position of wondering just how much of what we're seeing is real. The audience is seeing everything through Anna's eyes, so everything is amped up and magnified, and Adams's exaggerated reactions that grow increasingly unhinged are thoroughly entertaining, building to that climax which is so deliciously campy, it's hard to believe anyone was able to keep a straight face.
Amy Adams does the best nightie-and-bathrobe overacting since Glenn Close in Fatal Attraction, but she's definitely not alone, as there is a gaggle of Hollywood heavyweights, including two Oscar winners, who play their own crucial roles in her character's mental spiral. Oldman, reunited with Wright after working together on Darkest Hour (2017), dives headfirst into playing Alistair Russell, the generically abusive, rich husband who is so obviously the killer that we know he's not. Oldman commits fully to the role, at one point delivering a fiery, threatening diatribe so close to Adams' face that it's impossible to not think of his self-mocking role on Friends as the over exuberant, enunciating actor who spits in his co-star's faces. This is the Oldman of Air Force One and it's most definitely appreciated. Jennifer Jason Leigh continues her career resurgence in a small but perfectly creepy role as Alistair's wife Jane, and Brian Tyree Henry plays Detective Little, the sympathetic detective who genuinely cares about Anna's well-being, but seems to have no power at all, easily bossed around by his cynical partner, Norelli, played by Jeanine Serralles.
In another bit of stop-me-if-you've-heard-this-before character design, there is the mysterious and maybe-too-friendly tenant David, who lives in Anna's basement, played by Wyatt Russell, who always seems to be in the right place at the right(wrong?) time. Mackie plays Anna's husband and Tracy Letts her therapist, the only two sane voices in Anna's life, who, of course, she doesn't listen to at all. Who Anna does listen to and care about the most is Ethan, played by Fred Hechinger, the teenage son from across the street who escapes his abusive father one night and forms a bond with Anna, as she bizarrely and ominously offers him sanctuary in her home anytime he needs it, assuring him "you always have a safe place here." Yeah, that won't go wrong at all.
Finally, there is Julianne Moore, the only actor who seems to really get exactly the movie she's in and leans into it as she plays the woman from across the street who gets to know Anna over wine one night, and whose murder Anna thinks she witnesses. Moore's chaotic and loose performance, colored with loud laughter and blunt and hilarious commentary, like when she blurts out, after finding out that Anna is agoraphobic, "I'd hate to be stuck inside a house this shitty!" is what gives The Woman in the Window its life and color, fleeting though it is.
Although Moore is able to find the campy and darkly comic tones in her performance, the rest of the cast is fully committed to the intense seriousness of the thriller genre, which is exactly why it works in the perfectly opposite way. Wright's amplification of horror movie cliches, such as a dark and stormy night, a mysterious downstairs neighbor, the tragic heroine trying to escape her past, and literally things that go bump in the night, become more outrageous as the film goes on, resulting in a tension that gets broken in a most unexpectedly hilarious way.
Every part of this film is overblown, overindulgent, overly signposted, overly generic and overly predictable. It's a glorious disaster that takes its audience on a trippy, darkly comic and indulgently campy homage to Hitchcock, a thoroughly modern throwback that works in every worst possible way.
Originally published in Awards Watch.