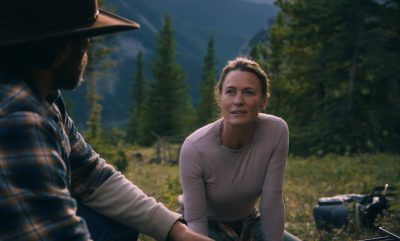 It's taken Robin Wright a long time to get here. After breaking into the industry over 35 years ago, the veteran actress has finally taken her seat in the director's chair and her first feature film, Land, premiering at Sundance Film Festival, is an impressive albeit safe debut.
Written by Jesse Chatham and Erin Dignam, Land stars Wright as Edee, a woman who we first meet in a therapist's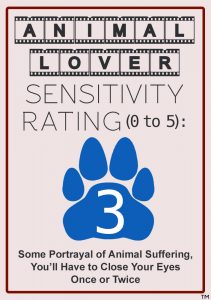 office, obviously depressed and trying to learn how to deal with an unnamed tragedy in her life. The next thing we know, she has packed up everything she owns, rented a car and a U-Haul trailer and moved to a remote cabin in the Wyoming wilderness, to live by herself, away from civilization, but, most important of all, away from any other human. Whatever it is she's trying to escape from or shut out, she obviously feels that isolating herself from life is what she needs to heal the deep core of pain that has seemingly swallowed her whole.
If it seems like we've seen this before, we have, most recently in Wild, Jean-Marc Valee's adaptation of the bestselling Cheryl Strayed book, starring Reese Witherspoon as a woman who, mourning the death of her mother and trying to escape her own demons, chooses to hike the 2,000+ mile Pacific Crest Trail alone. We've also seen it, to a different degree, in Into the Wild, directed by Sean Penn. Wright and Penn were married at the time Penn made Into the Wild, and it looks like she must have absorbed something from that film about a young man who hikes deep into the Alaska wilderness, because Land shares a similar reverence to nature, basking in its power, beauty and danger.
But Wright, who previously had only directed some episodes of her Netflix show House of Cards before helming this film, certainly makes Land her own by injecting a warmth and generosity of spirit into it. Even in a film about a woman who is beholden to her self-proclaimed misanthropy, there is a compassion and, yes, genuine humanity in Edee's journey.
Don't get me wrong, the story is nothing new and quite predictable, as Edee's initial months in isolation are filled with mistakes and miscalculations that we totally saw coming. It's hard to feel sorry for someone who has intentionally put themselves into this situation. When she is rescued by a passing hunter, played by Demián Bichir, who insists on checking in on her, they become friends, and he teaches her how to survive on her own and she, in turn, learns how to live again. It's as predictable and treacly as you would expect–as well as surprisingly sexist—but, even so, Land still manages to be affecting, mainly due to the performances from Wright and Bichir. Wright has always had the gravitas as an actor to dig into the deepest recesses and she hits every right note here, carrying the audience along her journey, through all of Edee's fears, sorrows and triumphs. And Bichir is her perfect complement, quiet and unemotional, never judging, never questioning.
But still, the film falls far short of being a completely rewarding experience. It's hard for a film like this to not be beautiful, as cinematographer Bobby Bukowski takes full advantage of the Wyoming wilderness setting, allowing the location to live and breathe as its own character, Edee's true savior. It's important that the setting be so beautiful and the performances be strong, because this film really doesn't have much else to sell it. The emotional cues are standard, the plot points predictable and the character development unimaginative, making Land a modestly effective but ultimately disappointing film that I wish had somehow found a way to blaze a new trail, instead of just re-treading a very familiar path.
Review originally published on AwardsWatch.