Simply on its face, the new film Wild Mountain Thyme is a light-hearted, almost fantastical take on a Hallmark romance, but there's just something about it that rises above its hokey-ness and leaves you with a warm feeling inside. The whole film is a bit mystifying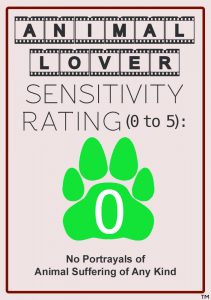 until you realize it's written and directed by John Patrick Shanley, and then it all seems to make sense.
Directed and written by Shanley, adapted from his own 2014 play Outside Mullingar, Wild Mountain Thyme stars Emily Blunt and Jamie Dornan as Rosemary and Anthony, neighboring farmers in Ireland in the '80s who bicker, banter and fail miserably to hide their feelings for each other, even though neither ever notices. Because their families are supposed to be rivals who have had a generations-long dispute over a small piece of land, they have suppressed their emotions all these years, despite each being in love with each other since childhood. And here's where it all goes a little wonky. The "rivalry" that supposedly has torn the two families apart now stands more as a nagging issue as the two families are fast friends, the adults getting along and the children growing up together. But, much like Shanley's other star-crossed lover rom-com, Moonstruck, tradition is a hard thing to break free from.
All the tension comes to a head when Anthony's father, Tony, played by Christopher Walken, feels he has to decide what to do with the family farm that has been passed down from generation to generation. Tony feels Anthony is not a farmer at heart (or head), so he considers selling it to his upstart American nephew, Adam, played by Jon Hamm. This news sets Anthony off in a tizzy, but it's hard to tell the difference because he's already a bit odd on a good day. But Adam's threat to take away everything Anthony has ever known, including his proximity to Rosemary, lights something in him, and he decides it's time to fight for all that he thinks is his.
The inherent problem with the film is, no matter how appealing Blunt and Dornan are, it's hard to swallow that they both got to adulthood being so clueless—about everything. These characters feel like something out of a cartoon, never fully fleshed out or whole. The film works hard to establish Rosemary and Anthony as stubborn, when all they come off as is emotionally stunted. There is a naiveté to these characters that is hard to buy, especially in the 20th century.
Still, Blunt and Dornan are amazingly winning in the roles, and that's what ends up working about this film. No matter how silly or unrealistic it seems, the performances across the board are so warm and inviting, funny and coy, you can't help but be enamored. There is a sincerity that shines through, and it certainly helps that there is a lusciously gorgeous Irish countryside that makes everything tolerable.
And this is where Shanley's gifts shine through. Despite the unbelievably saccharine and earnest charm that oozes out of every out-of-a-storybook corner of this lush Irish delight of a film, Shanley's lyrical dialogue arrives to make Wild Mountain Thyme a sweet if silly film that may not have spoken to the hopeless romantic in me as much as it did the lover of language. Shanley's irrepressible words continued to win me over, and I found my way through the silliness to appreciate Wild Mountain Thyme not for everything it thinks it is, but for everything it tries to be.