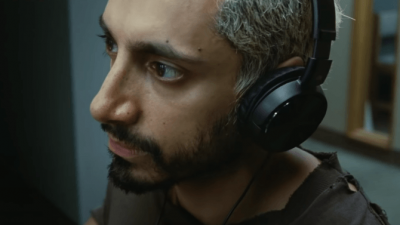 Writer/director Darius Marder's new film, The Sound of Metal, explores, quite beautifully and somewhat elegiacally, how losing all control of your life can be the one thing that saves it.
Riz Ahmed plays Ruben, a heavy metal drummer on tour with his band, which consists of him and his singer girlfriend, Lou (Olivia Cooke). Although "tour" is a generous word, considering they just travel from one dumpy club to another and live in an airstream RV. But, still, they are happy, even though he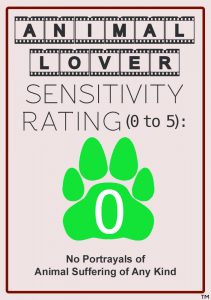 is a drug addict in recovery, and she has a past as a self-harmer. But, together, they have carved out a nice little life for themselves, until the morning when Ruben wakes up and can suddenly no longer hear. When the doctor confirms 70-80% hearing loss, Ruben is understandably shaken. When Lou fears that this news will prompt a relapse, she calls his sponsor, who recommends Ruben get himself to a meeting asap, and suggests a recovery center for deaf addicts. Even though Ruben is resistant, Lou insists and she leaves him there, knowing she can't help him. Ruben is terrified to be alone and doesn't want to be there, but he eventually settles into the strict and familial atmosphere overseen by Joe (Paul Raci), a hearing-impaired recovering alcoholic. Joe sees a real potential in Ruben, but Ruben is obsessively determined to "fix" his situation and get back to Lou and his old life, no matter what it takes. But there are some things that can't be fixed and, as Ruben learns, there are even some problems that you never knew were there until forced to face them.
Marder's screenplay and direction are both tender and textured, asking the question of what it would take to force you to change your life. And when that change is offered, would you even accept it? The Sound of Metal is a story of an addict confronting his choices in life and learning to come to terms with a key tenet of recovery: accepting things you cannot change. Ruben has no easy choices and no clear answers for what is happening, but the fact that he refuses to believe that anything has actually changed is a glimpse of a human struggle that is universal, which is the fear of acceptance and of letting go. It's sometimes hard to see toxicity when you are inside it.
Besides the quietly powerful and evocative script, The Sound of Metal belongs to Riz Ahmed's subtle and layered performance. Confronted with his confounding diagnosis, Ahmed plays Ruben as disbelieving and determined at the same time, never overplaying, and never giving into melodrama. While the movie does get caught up a bit in its own feel-good-ness during the group home section, Ahmed keeps the film focused and grounded. He brings the audience along with him on this journey and he never once goes off track.
As for the journey itself, the decision by Marder to put permanent captions on the screen, as well as toggling the sound in and out of Ruben's current aural status, is the most effective element of the movie in engaging the audience and giving a real sense of what Ruben is experiencing. Adding to the already moving, raw and real performance by Ahmed, this choice is what makes The Sound of Metal a succinctly exceptional study in the human condition and what it takes to accept whatever life throws at you.
Originally published at AwardsWatch.com.