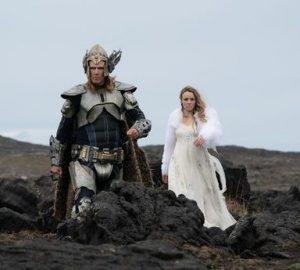 Will Ferrell has made a career of spoofing industries, having roasted everything from television news and politics to NASCAR, ice skating and basketball. His latest is a sendup of the popular European singing competition, The Eurovision Song Contest, an annual extravaganza that blends music, national pride and outrageous costumes. Known for having launched ABBA in the '70s, the contest has continued to be a hugely popular event in Europe, but seen by the rest of the world, especially in the United States, as not much more than a cheesy, over-the-top talent show. It would seem to be an easy target for satire, but, unlike other outrageous and campy things that have been spoofed, like beauty pageants (Miss Congeniality) and modeling/fashion shows (Zoolander), the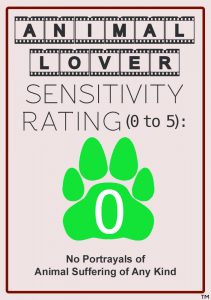 Eurovision Song Contest has a sweetness and a sincerity to it that makes it a bit harder to roast. But in the apt but perhaps overly descriptively named Eurovision Song Contest: The Story of Fire Saga, Ferrell, who co-wrote and co-stars, manages to tap into much of that sweetness, making the movie less of a roast than a silly homage.
Silly is the perfect word to describe this film. Director David Dobkin and writers Ferrell and Andrew Steele have made a film that is saccharine to the point of distraction, but that's not necessarily a bad thing. There is a tenderness that I found myself totally leaning into, not realizing how badly I needed to watch something this earnestly stupid.
Ferrell and Rachel McAdams play Lars and Sigrit, an Icelandic singing duo who call themselves Fire Saga, who dream of performing in and winning the Eurovision Song Contest. Their small town doesn't believe in them, their own family doesn't believe in them, and there may be someone trying to sabotage them, but they somehow get to the big stage anyway, with the chance to prove to the world that they deserve to be there.
Ferrell's character is a man-child who still lives at home with his grumpy widower father, played by Pierce Brosnan, and McAdams is a naïve and shy woman who secretly pines for Lars, but all he cares about is his music and getting to the big show. Both characters are sweet and you can't help but root for them, but the trope of "small town innocence" being amplified because they come from a small country doesn't give them an excuse to dumb them down.
Mostly disappointing is Ferrell's performance, which feels recycled and redundant. Most of his lines sound as if they could've come out of the mouth of any one of his other characters from other films, having nothing to do with this story or this specific character. Ferrell's laziness is contrasted by McAdams's energy, as the Oscar-nominated actress, known for mostly serious roles, brings some of the comic flair she famously delivered in Mean Girls and rediscovered in Game Night. While McAdams's performance is reactive and appealing, Ferrell's is insular and selfish, caught up only in the playing of his own character, choosing to always be the center of the scene, earned or not. It's weird to say that the biggest obstacle to this film's success is Will Ferrell's performance, but such is the case.
Still, there is a sweetness and a sincerity in the world of this film that makes it a much more pleasant experience than you might expect. Having lived in Europe as a child and knowing the cultural impact and annual extravaganza the Eurovision Song Contest is, I was happy to see that the contest was not just skewered as an over-the-top, excessive exercise in cheesy showmanship (which it is), but the writers understand and appreciate the true sincerity of the performers and the affection the audience has for it. The scenes at the contest itself are a lot of fun, and being immersed in the pageantry of the characters and costumes is delicious.
There are some supporting features of the film that add to its charm, like Dan Stevens's committed but confused performance as an outrageous Russian singer, and the beautiful scenic shots of Iceland and Scotland, even if they do seem to be thrown in more as filler. If this film doesn't make you ever want to pay to see Will Ferrell spoof anything anymore, at least it might inspire you to book a trip to Edinburgh.