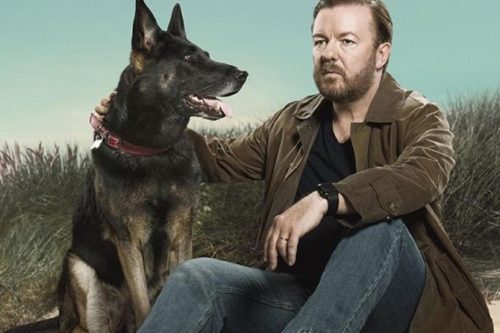 Ricky Gervais's Netflix series, After Life, is very much the product of an artist at his most personal. Gervais's monster success early in his career as the creator of The Office, the television series that turned into a worldwide phenomenon, allowed the producer/writer/director to approach the rest of his career with a freedom and abandon that most artists would die for. His post-Office work has been audacious and in your face, equal parts successful and forgettable, epitomized most famously by his 5 recent stints as host of the Golden Globes. He loves to challenge an audience, to make them question their beliefs, sometimes even their reality. He's even tried to show a softer side, like in his Netflix series, Derek, where he plays a sweet nursing home caregiver, but it's undeniable that attack comedy is Gervais's bread and butter.
Which is why his series After Life, whose second season drops on Netflix on April 24, is the best work Gervais has done since The Office, as it is able to find the right combination of sweetness and savagery that were the hallmarks of that series. But even his fans were surprised by how emotional and vulnerable Gervais allowed himself to be in the first season of the series about a man coping with the death of his wife. Gervais himself probably didn't know whether there would even be a second season, considering how dark the story sometimes got, but, despite the somewhat tepid critical response, Netflix greenlit a second season. Gervais, who wrote and directed all six episodes, keeps some of the darkness of season 1, but also gives us much more of the colorful supporting characters that provide his signature zaniness. While season 1 is stronger as a whole, season 2 benefits from an expansion of the story and an even deeper emotional connection.
Season 2 starts up right where Season 1 left off, with Tony (Ricky Gervais) still trying to find ways to not let his massive grief over losing his wife Lisa (Kerry Godliman) to cancer ruin him and everyone around him. In fact, everything seems to be coming up roses now in Tambury, the fictional small English town where Tony lives. The season opens to a montage set to The Carpenters' cheesy '70s soft-pop classic, "Top of the World," a tongue-in-cheek way for us to catch up with all the characters we met in season one, most of them seemingly happy and in a good place. Even Tony seems to be managing ok now, having gotten past the suicidal thoughts that plagued him through most of season 1. You wonder where the show is going to go, if the darkness that nearly engulfed Tony is now gone.
You don't have to wait too long, however, as Tony slips easily back into his insulting and brutally honest ways, triggered by sitting through a hippy yoga class. Despite his best efforts to "find my Zen," he can't help but let loose on the daffy instructor who keeps interrupting the quiet meditation he is supposed to be inspiring. It's a slippery slope from there, and Season 2 is back on the same track as Season 1, as Tony continues to find things that annoy him and an inability to stay quiet.
The main plot of the season revolves around the impending sale of the Tambury Gazette, the paper where most of the main characters work, and the planning and rehearsing for the town's big amateur drama night, "Night of 1000 Stars." More time is spent this season with the supporting characters, who each have their own storylines. Gazette editor-in-chief and Tony's brother-in-law, Matt (Tom Basden), is fighting for his marriage, and fending off advances from Gazette sales rep, Kath (Diane Morgan), while Sandy (Mandeep Dhillon) comes to realize that, without the Gazette, she's got nothing in her life. Meanwhile, Lenny (Tony Day) has moved in with his girlfriend and his bumbling, Mama's boy son, who is now interning at the paper to get experience. As he did with The Office, Gervais makes a living creating oddball characters who are wildly entertaining and casting them to utter perfection with performers who walk that narrow line between wild satire and mundane realism to delightful comic effect.
The character with the biggest leap from peripheral to central player is Postman Pat, played by Joe Wilkinson, whose weird idiosyncrasies start to grow on you. Tony sets Pat up with the town prostitute, Roxy, played with a matter-of-fact glee by Roisin Conaty, and it's the sweetest, weirdest first date ever. Meanwhile, Kath's attempt at conjuring up a romance with Matt gets more and more awkward as she continues to up the ante and he tries to push her off in more imaginative ways.
Not as enjoyable is the return of the town's psychiatrist, played by Paul Kaye, who is as vulgar as he is inappropriate (although we do appreciate him for the brief moment with Tom Bennett that we get in episode 3).
Meanwhile, Tony is still confusingly smitten by Emma (Ashley Jensen), the nurse who looks after his Dad (David Bradley) in the nursing home. While he's been as honest as he can be about the fact that he's not ready to be romantically involved with anyone, she still lets him know how much she likes him and vice versa. But he continues to push her away, no matter how jealous he surprisingly finds himself getting when he sees her out on a date with another guy.
The colorful townspeople of Tambury also take their share of the spotlight to hilarious comic effect, including a 50-year old married man who self-identifies as an 8-year old girl and the town's oldest woman, who is absolutely furious that she's still alive. Gervais's best comedy lies in these bizarre vignettes that are the highlight of the series.
The heart of After Life, though, is still the meditation on grief that runs throughout the show. Contrasting the outrageous humor of the characters and the somber emotions that Tony is navigating is the crux of this series, and Gervais finds a way to merge them together with delicacy and sensitivity. I most certainly will not reveal where it goes or how deep it goes, but it's safe to say that Gervais chose to write a piece that takes you to the very edges of every emotion, including sadness, sorrow, longing and joy. After Life is a sweet and salty little treat that is worth savoring every minute.
This article was first published on AwardsWatch.com.