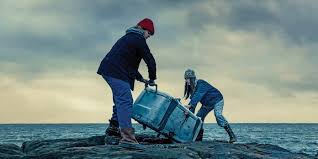 For all the drama and lure of big cities, some of the best movies have been stories set in small towns. Sometimes there's nothing like small town America to ignite the imagination of a storyteller, a place where traditions, histories, loyalties and families not only serve as bedrocks but can sometimes prove to be destructive forces of nature. In an intriguing and delicious feature film debut by writer/directors Bridget Savage Cole and Danielle Krudy, Blow the Man Down is a clever, dark, and attention-grabbing look at the politics of a small Maine fishing town and how keeping secrets is everybody's business.
Led by an impressive mostly-female cast, Cole and Krudy have crafted a mystery/thriller about a twisted town forced to confront its past and its many secrets when a body washes up on the shore and everybody has a different theory about whodunit and why. Grieving sisters Priscilla and Mary Beth have just coincidentally buried their mother and are trying to figure out how they are going to keep the family business afloat so they don't lose their house to foreclosure. The trio of town matriarchs, Susie, Doreen and Gail, have decided to finally lay down the law on the town's brothel, run by Enid, and the young, affable cop, Officer Brennan, is trying to figure out who killed one of the brothel's employees. There seem to be no secrets between anyone in this town, but, as it turns out, the more you scratch the surface, the more things start to bubble up. Loyalties are tested and secrets are out in a well-crafted feminist noir.
Terrific performances are everywhere in this ensemble piece, especially from Sophie Lowe (Priscilla), Morgan Saylor (Mary Beth) and the ever-reliable Margo Martindale, who plays Enid. The town is seemingly run by women and June Squibb, Marceline Hugot and Annette O'Toole are equal parts sweet and savage as the trio who call the shots. You are cut from a different cloth in Maine, there is a toughness and a resilience that comes through in each performance. These people are no-nonsense and will do what it takes to survive. Cole and Krudy play with gender roles and even offer up a pseudo Greek chorus of singing fishermen that signal the breaks in the acts.
The cinematography by Todd Banhazl is gorgeous and haunting, as the sense of place is so well-established, I felt as if I could feel the mist off the ocean. The incredibly evocative score by Jordan Dykstra and Brian McOmber contributes mightily to the emotional and psychological murkiness of the story and Cole and Kurdy's tight script and character development makes Blow the Man Down an entertaining thriller with a feminist appeal that embraces tropes as it shatters convention.
This review is from AFI FEST 2019. Blow the Man Down will be released by Amazon Studios at a later date.
This article was originally published on AwardsWatch.com.