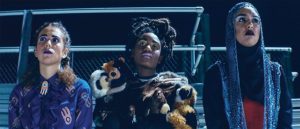 While I love nothing more than a completely original idea, there's also something really cool about an artist finding a way to tell their story in a way that is not only referential to other movies, but reverential as well. Knives and Skin, a new film from writer/director Jennifer Reeder, is a surreal exploration of teen angst with a noir feminist edge whose vibe will feel very familiar if you are a fan of films like Donnie Darko or Twin Peaks. And yet it finds a way to reveal humanity in a sweet and very weird way.
The film centers on the disappearance of teen Carolyn (Raven Whitley), which sends a ripple through her small town, affecting nearly everyone, whether directly impacted by her loss or not. Reeder does a great job introducing us to her cast of characters, including teens, parents and teachers, who populate the rings of acquaintance around Carolyn. As her absence proves to be a near-black hole for her mother (Marika Engelhardt), Carolyn's friends seem to be affected less outwardly, but we soon realize that the ripple effect runs deep, as Carolyn's disappearance serves as a catalyst for both awakening and reckoning.
Multiple stories and characters play out seamlessly, as we become immersed in the lives of these characters, who all seem to be normal archetypes of a midwestern town, but we realize pretty quickly that there is an undercurrent of strange here, as Reeder herself describes, they are all "hovering above reality." This slightly surreal vibe runs deeply through this film, especially in how it plays with familiar high school tropes. And yet, at the heart of it, this film is about loneliness and how we all put on a face, but, deep down, we just want to be a part of something and to be noticed and loved—and missed.
Knives and Skin is also a deeply feminist film, which embraces all parts of the female experience, and features a woman-driven story. I absolutely loved the circle of girlfriends (and two literal girlfriends), who each has their own story to tell. It could have gone all shades of Mean Girls or Heathers, but instead finds a much more realistic and heartrending approach to the delicate balance of being a teenage girl.
It sometimes gets a little too weird for its own good and it has almost too many ideas, some of them get lost in the shuffle just when you wish they could have been explored a little more, but, overall Knives and Skin is a film with an entertaining and diverse cast and a story that plays on our notions of convention and normalcy and twists the teenage experience into something that's sometimes weird, sometimes beautiful, sometimes ugly, and not always survivable.
This review is from AFI FEST. Knives and Skin will be released by IFC Midnight on December 6.
This article was originally published on AwardsWatch.com.