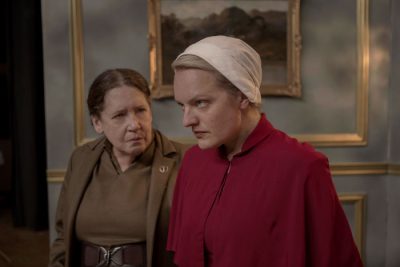 Word has apparently gotten out about the video of Luke and Nichole at the protest rally, as several handmaids approach June and quietly offer their congratulations that Nichole is safe. "A victory for one is a victory for all," she says in voiceover. While grateful for the confirmation that both Nichole and Luke are safe, the video triggers memories of Luke that June had locked away. She misses him now more than ever.
Now worried about Luke's safety, June tries to get information from Lawrence about whether Luke is in any danger, but Lawrence dodges the question.
Now that the kidnapping has gone viral, the Gilead leadership is forced to meet to figure out how to handle it. Surprisingly, Fred invites Serena to join, telling her, "you have a say in this." Serena asks the council what they know about Luke and how Nichole is doing. When she hears details, however, it's almost too much to bear. After the meeting, Fred sees how upset Serena is and gently says, "I thought this is what you wanted…for our daughter to be safe." Fred is desperate to reconcile with Serena and for her to be happy again, he's even willing to overlook what she did and to quietly dissuade any actions to get Nichole back (not like Gilead has many). He asks to help him understand—what does she want? All she wants is to be with her, she says, which she knows is impossible. And because the pain is too much to bear, she tells Fred, "I just want this to be over."
But not apparently until Serena gets to say goodbye. Fred and Serena visit June at the Lawrence's, asking June to arrange a meeting with Luke so they can see Nichole one more time. Realizing she actually has some power in this moment, June says no, but after Serena begs June to do this for her, June agrees, telling Serena in private that she will owe her. Quid pro quo.
Like a scene from a hostage negotiation, June is given exactly two minutes to call Luke and convince him to meet Serena and Fred at the airport in Toronto, so they can see Nichole. Luke, overwhelmed by the fact that he's talking to June, finally gets clear on what she's really asking and understands that, if June is going to remain safe, he must agree. BUT, he says, not Fred…just Serena. June, despite her calm and steadiness during the call to Luke, starts to break down but then she forces herself to swallow her emotions and puts on her game face again.
June continues her intel campaign by chatting with Mrs. Lawrence and asking questions about Mr. Lawrence—the more she knows, the more she can exploit. Mrs. Lawrence confides that he's not the man he used to be, the man she fell in love with. She tells of mix tapes that he used to make for her, which mean so much to her she still has them. June jumps on this and immediately goes in search of the tapes in the basement. She finds them, along with a boombox, and she puts one of the tapes in and pushes play. Leo Sayer's "You Make Me Feel Like Dancing" fills the air and June holds the boombox close to her face, reveling in memory and momentary joy.
In a beautifully-done transition, while that buoyant song is still playing, the scene shifts to a camera zooming over the ocean, finally honing in on Serena, sitting in the window at her mother's house as the music slowly fades away. Serena is gathering a few things she wants to give to Nichole, including pictures and an engraved watch. She shares a sweet moment with Rita, who gives her a package that June has asked Serena to give to Luke. Serena takes it, and we wonder if she will fulfill June's request. Nobody knows what's inside.
Serena flies to Toronto alone and is met by her old friend Mark from her previous visit. While he abstains from the defection hard-sell this time, he makes it clear that he's still willing to help if she has changed her mind. He gives her a change of clothes so she can fit in and takes her to the meeting place in the terminal. At this moment, I realized that the only thing keeping Serena from defecting is her faith. All she really cares about in the world is Nichole, who is in Canada. There's nothing to stop her from leaving, but Serena is a woman of belief—and if there ever would be a test of that faith, it would be now.
When she meets Luke, who is holding Nichole, he is, of course, very cold to her. But Serena is so distracted by Nichole she hardly notices. Serena asks if Nichole is eating solid foods yet and Luke asks how June is. Serena tells Luke that June is fine and Luke demands to know the name of her new house, which Serena tells him, in a show of gratitude for him being there. But Luke continues to be hostile, even though Serena tries to convince Luke that she has every right to be a part of Nichole's life as he does. It's not about biology, she says, "every child has a right to their own story, even if that story is complicated."
"You're never going to be anything to her," Luke sneers. This cut is deep and Serena pulls out the one card she has to play: she reminds Luke that she and June worked together, but, more important than that, she protected June. This softens Luke a bit and he asks Serena if she would like to hold Nichole. Serena is emotional as she holds Nichole close, basking in each second. Yvonne Strahovski has never been better, as she melts into the heartache and joy of the moment.
Having that moment with Nichole seems to have strengthened Serena, and she rebuffs Mark as he tempts her for defection one last time. "I only have one home," she tells him. Still, Mark can't resist putting a satellite phone into Serena's bag, with a note that says, "If you need me." Fred meets her when she returns to Gilead and she tells him, "She was perfect. And now it's over." He responds with, "It doesn't have to be."
Meanwhile, in Canada, we realize that Serena did get the package to Luke because we see him opening it, revealing a cassette tape, the same one June was playing earlier. Luke puts the tape into a player and hears music, but soon the music cuts out and it's June's voice. Tears of joy become tears of confusion as he listens to June confess that Nichole was made of love. She tells him about Nick and she encourages him to build his own life without her. She is not the woman he remembers anymore. And she reminds him that it's all for Nichole and she will not stop trying to get to her.
Guardians have come to collect June while she's out shopping and they force her into a van, which takes her to an unknown destination where Lydia greets her and leads her to a room where she is given a fancy outfit to put on. Then she is led to a soundstage, where she sees Fred and Serena, sitting on a sofa on a makeshift set made to look like a living room. They make June stand behind them as they start talking to the camera, appealing for the world's help to get back their baby, who was kidnapped. Realizing what is happening, June is furious but helpless, left only to whisper to Serena, "Serena, what did you do?" As we see Luke and Moira watch the video, which is being broadcast live, U2's "Sunday Bloody Sunday" plays over a closeup of June's face, back in warrior mode. She's got more work to do.
This article was originally published on AwardsWatch.com.