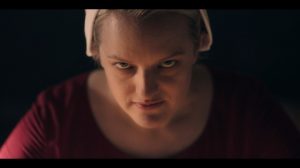 Review of the first six episodes of Season 3 of The Handmaid's Tale on Hulu.
In an already serious and drama-driven television landscape, there perhaps is no darker experience than Hulu's original series The Handmaid's Tale. Created by Bruce Miller and based on Margaret Atwood's dystopian novel of the same name, the series is set in an agonizingly depressing post-war United States, where, after a violent civil war, a militant faction of religious fundamentalists has taken control over much of the country, forcing their ideals and rules on all citizens. The foundation of the new male-led religion-based rule centers on the elimination of all rights and freedoms for women. In this dystopic future United States, there has been an unnamed plague that has caused widespread infertility, prompting the population rate to plummet. In their infinite wisdom, the leaders of Gilead have decided that forced procreation is the only way to save the future of humanity, so they enslave any healthy woman of childbearing age (handmaids) and force them to carry babies for childless couples.
The series premiered in April, 2017, just three months into President Trump's new conservative administration. Even then, the iconic red-caped costume used in the show was often spotted in anti-administration protests, a signal that women of this country were already fearful that the bleak narratives laid forth in the fictional show might someday come true under the reality of this backwards-looking administration. The political climate in the subsequent two years hasn't lessened this anxiety, instead, the recent coordinated assault on this country's abortion laws has only magnified the urgency for women to stand up, speak up and get involved in order to protect their rights. This current climate makes The Handmaid's Tale an even more engrossing and relevant piece of televised literature—and perhaps even a warning.
The powers-that-be at Hulu were either incredibly prescient or incredibly lucky to have produced this series at the most perfect time for it to strike the maximum number of nerves and earn the biggest spotlight. Hulu had a lot riding on it, as the streaming service was looking to compete in the world of original programming and desperately needed a hit. As such, they went all out and the result was a critically-acclaimed and popular series. Boosted by the political climate or not, The Handmaid's Tale found its audience in a big way. It also found its way critically and won 8 Emmys in its first season, including for Outstanding Drama Series.
The series is so good for so many reasons. The story is riveting and the performances are universally excellent, including and especially the amazing and Emmy-winning Elisabeth Moss, who continues to be jaw-droppingly good. And even if it might be hard to watch at times, you can't help but get wrapped up in the story of one woman experiencing, surviving, and resisting some of the worst horrors imaginable. You end up so engaged with her plight and her fight that you can't look away because you just have to see how far she can go (and how much she can take). It's a story about oppression, but also about personal empowerment, bravery and fierce determination.
Seasons 1 and 2 were dark, powerful and depressing, yet there was a building towards something. We were witnessing a character's darkest days and her fierce determination to overcome her circumstance and save herself and her children. At the end of a tumultuous and action-packed season 2, Moss's June had the chance to escape and didn't take it, frustrating most of the audience, but planting a seed that was sure to spring forth an even greater reward. As she whispers to her daughter, "Mommy has some work to do," there was every indication that season 3 would be a full-on revolution, with June at the front.
The first six episodes of season 3, however, are far from a revolution. They are, instead, a much more quiet and underscored evaluation of the events of the previous season and how the ramifications will play out. While June's initial goal in life was merely to survive, when she had the chance to escape, her motivations became less selfish—she would now be the rescuer, first her daughter, and, after that, who knows. All that's certain is that the cracks in Gilead are now showing and June intends to be the wedge to make the whole thing crumble.
Alliances are forming, allies are being cultivated, and June is slowly, but surely, working to build the resistance. But motivations are not always clear, from the odd behavior of June's new master, Joseph Lawrence (the wonderfully underplayed Bradley Whitford) to the quiet rage of Serena (the divine Yvonne Strahovski), whose outward demeanor belies the storm beneath the surface. And yet it is still unclear as to where Serena's loyalties lie. The relationship between June and Serena continues to be the cornerstone of the series, and it is here, in this tricky, combustible and emotional bond, that this narrative gets its weight, its depth and its texture.
The path that Emily (Emmy winner Alexis Bledel) has taken has been a fraught and traumatic one. One of the few uplifting moments in the series so far was getting to see her escape. After all we've seen her go through, having that one bright shining moment of hope was a critical moment for the audience and for the story as well, as her journey from the horrors of Gilead into the bright and unforgiving glare of freedom is sometimes a bit difficult to navigate, as we see her struggle with her past as she tries to come to terms with her future in season 3. Season 3 is also allowing us to spend more time with Luke (O-T Fagbenle) and Moira (Samira Wiley) as they struggle with their own existence in Canada, feeling somewhat lost and struggling to find a way to help June while raising Nichole. The other men in June's life, Fred (Joseph Fiennes) and Nick (Max Minghella), are as well struggling with their places in the Gilead power structure and facing their conflicted emotions when it comes to June.
While the first half of season 3 may not quite live up to the promise of season 2, there are plenty of signs that the resistance is spreading and that June's fight is only just beginning. We may want the revolution to be explosive, but perhaps this slow burn may prove to be just as satisfying.
This article was originally published on AwardsWatch.com.