I have a good friend whose favorite genre of movies is dysfunctional family drama. Which makes me wonder: is there such a thing as a functional family drama? Is that even something we'd want to see? The whole fun is the dysfunction, right? The more insane the relationships, the more dramatic the movie, which means more entertainment for us, the audience.
But what if you made a movie about a regular family that just happened to collectively stumble into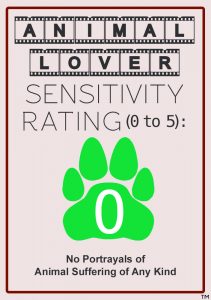 one specific dysfunction, all at the same time? The Farewell is just that movie, about one loving family's struggle to work together to, well, maintain a lie. Ok, maybe they're not so regular after all.
But here's where it gets really interesting. Grandma Nai Nai, the matriarch of this family, has terminal cancer and has been given 4 months to live. The family, driven by cultural traditions, decides to not tell Grandma the diagnosis, and plan a fake wedding instead to allow everyone to come home to say their goodbyes without her ever knowing it. I'll admit, when I first heard this premise, it intrigued and annoyed me. My gut reaction was "how on earth could they do that?" The idea of withholding someone's diagnosis from them seemed offensive and immoral. But writer/director Lulu Wang not only spoke to my emotional and ethical concerns with her smart and thoughtful screenplay, she turned a film about a simple lie into a heartfelt movie about love, grief, and letting go.
Wang based the story on her own life, as the main character Billi (played by Awkwafina) immigrated from China as a child with her parents, much like Wang did. Billi is a struggling writer in New York and has grown apart from her parents but maintains a very close relationship with her grandmother in Beijing. So, when the family comes up with their plan, they decide to not tell Billi, fearing she wouldn't be able to hold to the deception, considering her emotional attachment to her grandmother. But Billi finds out and decides to go to China anyway, reluctantly promising the family she will keep up the charade, if that's what they want.
The story's simplicity is what makes it work. While others may think it's boring or perverse to watch two hours of people being sad behind someone's back, Wang has instead built a three-dimensional world for us to live in which allows us to immerse ourselves in the details of these people's lives, without being distracted by melodrama or conflict. Shot entirely on location in China, The Farewell lets all aspects of Chinese life seep in, as Wang lingers at dinner tables and takes us on slow walks through a shopping district. It is a story of place and tradition as much as it is family and she gives each of them lots of air to breathe.
Awkwafina, who broke out with her scene-stealing role in Crazy Rich Asians, is challenged to carry this movie on her shoulders, but she is totally endearing as our guide to this strange yet familiar place. She puts us instantly at ease and is the perfect bridge between two worlds. The ironic part is that Awkwafina isn't even the comic relief in this movie, which has many funny moments throughout, thanks to an incredibly talented cast of mostly Chinese actors. Wang doesn't allow her movie to take itself too seriously, despite the serious premise, and each actor is especially deft at finding true moments of drama and depth while never slogging us into despair.
Even though the movie is mostly in Chinese (with subtitles), it really couldn't be more universally relatable. Relationships between brothers, between husbands and wives, between mothers and daughters are all examined with honesty and heart. There is an overall humanity in this movie that I didn't even realize I needed until I felt myself give in to it. By the end of it, The Farewell had me exactly where it wanted me and delivered an ending that ripped me apart in all the right ways. Bravo to Lulu Wang for this delicate, intimate and personal story that transcends nationalities, cultures and languages and reminds us that compassion and love are the ultimate family functions.