One of the things that I love about this time of year is how imagination is the driving force of most of the traditions. This is the season for children, and allowing them to indulge in and explore their imaginations is the best part of the holidays. So, even though the end of the year in Hollywood is dominated by movies vying in the Oscar race, it is also the perfect time of year for a movie that plays to and embraces the notion of fantasy and imagination, especially in children. And there is no better example of that than Mary Poppins Returns, the new remake/retread of the Julie Andrews classic from 1964. I know some of you may think there is no need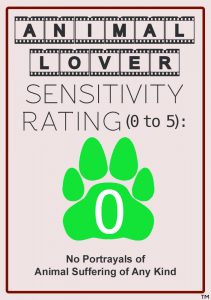 for a remake of a movie that was already perfect, but I promise you: there are worse things in this world than two Mary Poppins movies. Especially when they are both this good.
Now don't get me wrong. The original Mary Poppins was legendary. Nominated for 13 Oscars (winning 5), it was the pinnacle of success in the 1960's for the burgeoning Walt Disney film studio, and launched the career of a young actress named Julie Andrews (a year before The Sound of Music), winning her only Oscar for Best Actress. It was groundbreaking in terms of special effects and was the first major movie to combine live action with animation. So why mess with perfection? Because Disney can—they have the rights and the money to do it—and because they found a way to make a wonderful movie. It may be far from perfect or groundbreaking the way the original was, but the world is still a better place with it in it.
Nobody seems to be sure if Mary Poppins Returns is a remake or a sequel. In the original, the main character, a magical nanny named Mary Poppins, comes to visit the Banks family to help care for the two Banks children, Jane and Michael. In Mary Poppins Returns, Jane and Michael are grown up and Michael now has three children of his own and is a recent widower. He needs all the help he can get with the children, and, magically, a nanny arrives in the nick of time. But not just any nanny—his old nanny, Mary Poppins, who hasn't aged a day. Mary takes over the caring for the three children and helps them to rediscover their innocence and sense of wonder, while helping Michael to reconnect with his own inner child again.
Director Rob Marshall is known for the expertly-produced, professional and polished musicals of the past twenty years, including Nine, Into the Woods and the Oscar-winning Chicago. All three of those movies are very adult, so I was surprised to see him attached to this, a movie that you would think would need a driving spirit that is more attuned to a younger audience. But, in the end, Marshall is the perfect director for Mary Poppins Returns because his ability to create worlds and pack them with detail and life is second-to-none. This film is brimming with color, vibrance and energy, all Marshall hallmarks. And the production values are absolutely stunning, especially Sandy Powell's costumes and John Myhre's production design. The special effects are just as stunning this time around. There is one particular scene that intentionally calls back to the Disney animated movies from my childhood and I guarantee there's not a single American adult between the ages of 45 and 55 that won't melt into a puddle of nostalgia. The musical numbers were a little lackluster, especially considering what Marshall has done in other films, but the difference here is this: in other Marshall movies, the big musical numbers were the reasons to see the movies. In Mary Poppins Returns, they are good, but they are not what make the movie. What makes the movie is its total commitment to being a magical and sincere homage to the power and healing powers of imagination and wonder—and all it needs for that is heart. And Mary Poppins Returns may not be perfect, but it's got all the heart you'll ever want.
So, yes, the production elements do steal the show here, but what would a Mary Poppins movie be without a good Mary Poppins. Can anyone step into Julie Andrews' shoes? Who on earth has that kind of charm, talent and natural charisma? Well, while nobody could ever be Julie Andrews, Emily Blunt does a really good job at being almost perfect. Blunt is one of those rare actors who can literally do anything. She showed her comic timing in The Devil Wears Prada, her action skills in Edge of Tomorrow and Sicario and her dramatic skills in A Quiet Place. What we seem to forget is the fact that she can also sing and dance, as she showed us in Into the Woods, which was also directed by Rob Marshall. While the rest of us may have forgotten that movie and that she was so good in it, Marshall never forgot, so when the opportunity came to make this movie, he knew there was only one who could pull it off. And pull it off she does. It would be wrong to compare her to Julie Andrews, so I won't. Emily Blunt is her own Mary Poppins and she is just right. What I love about Blunt is that she is never larger-than-life, even when playing the most fantastical character, and she always feels real and open. She imbues Mary Poppins with a natural ease and easily blends into the background when she needs to, which is amazing to me in a movie like this. She is so charismatic, but what is so great about this movie is that it's more than the character of Mary Poppins and Blunt allows everything and everyone else to shine just as much as she does.
The rest of the cast around Blunt is also really good, especially the child actors who play the Banks children, Pixie Davies, Nathanael Saleh and especially Joel Dawson, who plays Georgie, the youngest. Emily Mortimer and Ben Wishaw play the grown-up Banks children, and they are good, as they always are. Lin-Manuel Miranda, who steps into the Dick Van Dyke shoes to play the neighborhood lamp-lighter (instead of chimneysweep), is the weakest link in the chain, as he may be a massively talented writer, but his acting and dancing just can't keep up with the rest of this movie. And when you can say Lin-Manuel Miranda is the weakest part of a movie, you know you've got a pretty good movie.
And that's the thing. Between the way this movie looks, the way it sounds and the way it moves, none of it is nearly as good as the way it makes you feel. I literally couldn't stop smiling the entire movie. There is so much whimsy, fun and imagination in here, you will not be able to stop your heart from growing two sizes. It is beautiful, funny, heartfelt and magical. If you have kids, take them NOW to see this movie. If you don't have kids, take yourself to see this movie. It is just what we need right now. Your inner child will thank you.