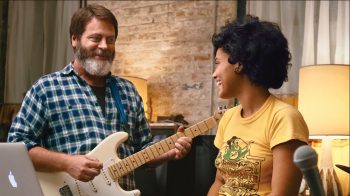 So here's the thing about summer. Yes, it's a time for the big blockbusters, the movies with merchandise tie-ins and numbers after their titles, but there's a little-acknowledged joy about summer that has nothing to do with superheroes and sequels: it's the perfect season for adult movies.
Normally, we equate summer movies with kids and big budgets, and it still is dominated by movies aimed at the restless youth and the overseas market, but the little-known secret of the movie industry is that summer is also the time for quality adult movies. The beginning of the year (Jan-April) is usually the dumping ground for movies that have come in below expectations and are not going to deliver much, from critics, awards or box office. The last part of the year (October-December) is reserved for awards consideration, where the best of the best compete, and only the strong survive. However, if a studio has a movie that they are really happy with, but they know it can't compete with the big boys of Oscar season, for whatever reason (marketing budget, lack of stars, lack of pedigree), releasing it in the summer has proven to be a goldmine. A low budget, grown-up movie of quality can find a foothold in the summer because—guess what—most adults aren't interested in the typical summer movie. Some good examples of adult movies that were released in the summer that made a splash (and lots of cash): The Big Sick, The Best Exotic Marigold Hotel, The Blair Witch Project, My Big Fat Greek Wedding, Mamma Mia and Bridesmaids. Not every adult movie released in the summer will make money, but it is still worthwhile to see what's out there, in the land beyond the blockbusters, because there just may be a hidden gem or two.

The under-recognized, low-budget, little adult movie of the year so far for me is Hearts Beat Loud, a movie that's made less than $1 million so far, but is worth every penny. It's fitting that heart is in the title, because this movie is overflowing with it. Directed and co-written by Brett Haley and starring Nick Offerman and Kiersey Clemons, Hearts Beat Loud captures so many feelings in such an unassuming way, you just might be blindsided by all those warm fuzzies.
Offerman plays Frank Fisher, a single father who runs a small record store in Brooklyn, and Clemons is Sam, his teenage daughter who will be leaving for college soon. Despite their close relationship, both Frank and Sam know that when Sam leaves for UCLA in the fall, their relationship will naturally change, as will both of their lives. The one thing they still have in common is a deep love of music, especially when they jam together, writing and performing in their living room, for an audience of two. Frank is understandably having a harder time letting go than he realized, so he holds onto the musical connection between them for dear life, hoping it will somehow delay the inevitable…as long as they are playing together, she won't leave and things won't change.
Hearts Beat Loud manages to work in all the tropes: man-child who never grows up, daughter who was forced to grow up too fast, father-daughter role reversal, coming-of-age and first love. But it all feels fresh and new. Haley and Marc Basch have written a screenplay that doesn't try to do too much, but still manages to touch all the cornerstones just enough to make it relatable, understandable and real. And yet it manages to stay organic and natural—nothing feels forced or manipulative.
What helps is having these actors, who all feel ego-less. It truly feels as if these characters are just living on the screen, and as if they have been these characters their whole lives. Offerman is known in real life as being an incredibly grounded and unassuming guy, and he plays Frank in much the same way. He's a bear of a man who has a heart as big as the ocean, but is equally vulnerable. Offerman is incredibly warm and relaxed and is ok with letting his co-stars show off a bit, especially Clemons, who should be (and probably will be) a massive star. Clemons's screen presence is undeniable, as is her talent, both for acting and for singing. The filmmakers let her show off her skills in every way, and she makes Hearts Beat Loud special. There are also appealing and affecting supporting performances by Sasha Lane, Toni Collette, Ted Danson and Blythe Danner, all of whom help to fill out this movie and help it to live and breathe. What I love about Toni Collette in particular was that I knew she was on the screen in the theatre next door to me while I was watching Hearts Beat Loud–scaring the living daylights out of people in Hereditary, the horror movie everyone is talking about (another summer indie!)—but I wouldn't have rather seen her in any other movie at that moment. She is a true chameleon and whatever she plays, she is—and she makes every movie better.
Hearts Beat Loud is not a movie you'll remember for the rest of your life, nor will it be one that will shake you to your core. But it is a movie that is well worth a summer evening spent with likeable characters, legitimate emotions and a real story. Bigger is not always better. So, while your kids settle in with their popcorn and their soda for Incredibles 2, I encourage you to slip out and find a seat in the theatre next door showing Hearts Beat Loud. Let them have their wow, you can have your sigh.