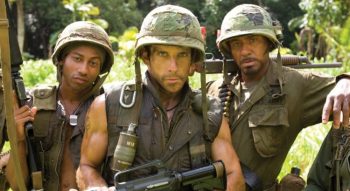 It's only four days in and I already have Avengers fatigue. "The biggest movie of all time" opened on Friday and I really couldn't care less. Avengers: Infinity War has already broken opening weekend box office records, and could be well on its way to breaking every record. And yet, I still have no interest in seeing it. For those of you who feel the same way I do, I thought I might offer some viewing alternatives to fill the time until movie theatres become habitable again.
One of the biggest draws of Infinity War is that it brings together all the Marvel superheroes in one movie. Well, most of those superheroes are played by great actors, all of whom have some fantastic credits in their resume—some you may know, some not. So, in lieu of seeing each of these actors for five minutes (or less) in Infinity War, may I suggest something else from their filmography—something you might like much, much more.
Here are my favorite movies/roles for most of the Avengers, all of which you should seek out, if you've never seen them (and MUST seek out if you've only ever seen these actors in spandex):
ROBERT DOWNEY, JR.
There are many to choose from, and I really love his performances in Less Than Zero (1987), Chances Are (1989), Zodiac (2007) and his Oscar-nominated Chaplin (1993), but I've got to say what he does in Tropic Thunder (2008) is not only jaw-dropping, but truly spectacular. Everyone knows this guy can act, but to act like this? If you've never seen it, and have no idea what it's about, rent it. You won't believe what you're seeing.
CHRIS HEMSWORTH
While I do love him as Thor, I have to tell you he made me laugh out loud in the Ghostbusters (2016) reboot and he impressed me with his actual acting chops in Rush (2013). Definitely more than a pretty face.
MARK RUFFALO
Another alum of the Zodiac school for excellent acting, Ruffalo was also great in You Can Count on Me (2000), The Kids are All Right (2010) and Spotlight (2015), but my recommendation is definitely Foxcatcher (2014), a movie in which he plays third fiddle to Channing Tatum and Steve Carell, and still steals the movie right out from under them.
CHRIS EVANS
If you think Evans can only play sweet, all-American heroes, check out Snowpiercer (2013), a dark and twisted movie that is as anti-Captain America as they come.
SCARLETT JOHANSSON
She's done a lot of movies, but I have to say my absolute favorite performance is one of her first, in Sofia Coppola's Lost in Translation (2003). It made her a star for a reason. Her voice work has also been great, especially in Her (2013), Isle of Dogs (2018) and as Kaa in The Jungle Book (2016).
DON CHEADLE
Cheadle is one of my absolute favorites, he can do no wrong, but what he does in Boogie Nights (1997) is exceptional. In a stellar cast filled with truly spectacular performances, Cheadle's heartbreaking and soulful performance truly stands out.
BENEDICT CUMBERBATCH
I've never seen Cumberbatch's Sherlock, so I can't speak to that, and Cumberbatch's Oscar-nominated performance in The Imitation Game (2014) has got to be considered one of his best, but my personal favorite is his voicework as Smaug in the Hobbit movies. Sooooooo good.
TOM HIDDLESTON
No, my favorite performance of Hiddleston's wasn't pretending to be Taylor Swift's boyfriend, it actually was in The Night Manager, an AMC limited series in 2016. He was so good in it, people were suggesting he would make a great James Bond. The idea might have taken off, too, if it hadn't been for the bad Swiftian publicity. But, still, it was a great performance and Hiddleston deserves more chances.
ELIZABETH OLSEN
I think I'm one of the only people on the planet who actually saw Martha Marcy May Marlene (2011), Olsen's second movie. She was fantastic in it and it's a great recommendation for anyone who loves indie movies. But my favorite of hers is actually her most recent, Wind River (2017). The movie sadly became a casualty of the Harvey Weinstein scandal, as Wind River was one of the last movies he produced, so nobody wanted to touch it, but I highly recommend it—it's a well-made thriller from one of the best writer/directors working today (Taylor Sheridan) and Olsen delivers another quietly powerful performance.
ANTHONY MACKIE
It has to be The Hurt Locker (2008), right?
SEBASTIAN STAN
I didn't even know this guy WAS an Avenger. All I know him from is the powerhouse performance he gives as Jeff Gillooly in last year's I, Tonya (2017). Everyone in that movie had to be big and bold, and he was as big and bold as any of them—and funny too.
PETER DINKLAGE
Dinklage has had a long career, and he still is delivering great performances in top-notch films. He truly shone in last year's Three Billboards Outside Ebbing, Missouri (2017). But, come on. Tyrion Lannister is the role of a lifetime and Game of Thrones (2011-present) is one of the only things that may be bigger than Avengers. Even if the fantasy/adventure HBO series is not your cup of tea, Dinklage's character and performance is timeless.
BRADLEY COOPER
Never been a big fan, but I will tell you I thought he was right in his wheelhouse in The Hangover (2009), in which he delivered a pitch-perfect performance. But, for Cooper, my favorite part has to be in a classic: Wet Hot American Summer (2001). His first movie ever and he knocked it out of the park as Ben, the perfectly dorky gay summer camp counselor. He was great—back before he took himself too seriously. (And yes, I even remember him in his first credit ever, as one of Carrie's boyfriends in Sex and the City).
GWYNETH PALTROW
Paltrow has had some great roles, including Emma (1996), Sliding Doors (1998) and Shallow Hal (2001) (don't laugh…I LOVE that movie), but she is absolutely transcendent in The Talented Mr. Ripley (2000). She takes the "girlfriend" role and makes it her own.
BENICIO DEL TORO
Loved him in Traffic (2000) and Sicario (2015), but nobody can touch The Usual Suspects (1995).
JOSH BROLIN
He keeps getting better and better, and his performances in Milk (2008) and Hail, Caesar! (2016) deserve mentions, but No Country For Old Men (2007) is where the boy became a man.
CHRIS PRATT
No matter how big he gets, Chris Pratt will always be Andy Dwyer from Parks and Recreation (2009-2015).
WILLIAM HURT
The Big Chill (1983), Kiss of the Spider Woman (1985), Children of a Lesser God (1986), A History of Violence (2005)—all great movies and performances, but Broadcast News (1987) just happens to be one of the best movies of all time, so, Tom Grunick it is.
CARRIE COON
How can it be that we only now have discovered the massive brilliance that is Carrie Coon? Her first movie was Gone Girl (2014) just 4 years ago? Are you kidding? Where has she been all our lives? All I can say is now that we finally have her, we can never let her go. And if you haven't seen what she does in the HBO series The Leftovers (2014-2017) or in season 3 of Fargo (2017) on FX, you are freaking out of your mind—because she will blow it.
Most of the above recommended movies are available to rent or buy from Amazon Prime Video. In addition, some are available for free or included in other streaming services:
Available on Netflix streaming:
Tropic Thunder
Boogie Nights
Wind River
Wet Hot American Summer
Parks & Recreation
Available on Amazon Prime Video (free for Prime members):
The Night Manager
The Hurt Locker
Available via HBO:
Game of Thrones
The Leftovers