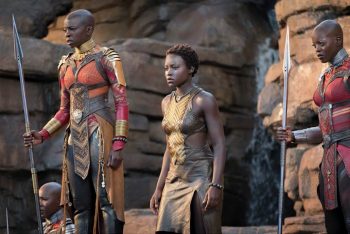 It does feel like there is a reckoning happening in Hollywood. Yes, there are the #MeToo and #TimesUp movements that are making an emotional impact, but beyond those, there seems to finally be a move towards more inclusivity. Diversity in Hollywood has always been a challenge, but the tone-deafness reached a nadir in 2016, when every single one of the Academy Award acting nominees were white, prompting the #OscarsSoWhite fury. Since then, the Academy extended invitations to thousands of new members, most of them women and people of color. Beyond that, the widespread cultural demand for more diversity has been reflected in the movies that are being made, and how they are being made. There was no way Hollywood could continue down the path of being for and about white men any longer. Don't get me wrong, white men still rule in Hollywood, both in front of and behind the camera (and where it really counts—in the executive offices), but the time's, they ARE a'changin'.
Consider these facts:
• The top three domestic box office money makers in 2017 all featured women in the lead roles (Star Wars: The Last Jedi, Beauty and the Beast and Wonder Woman)
• The third highest-grossing movie of 2017 (domestically), Wonder Woman, was directed by a woman (Patty Jenkins)
• The 8th highest-grossing movie of 2017 (domestically), Thor: Ragnarok, was directed by a man of Maori descent who had never directed a studio film (Taika Waititi).
• The Best Picture winner in 2017 was Moonlight, a movie about a gay black man, written and directed by a black man (Barry Jenkins) and featuring not a single white character.
• The 15th highest-grossing movie of the year, Get Out, was written, directed and produced by Jordan Peele, a black man who had never directed a movie before. The movie cost $4.5 million to make and made $255 million world-wide and could win Best Picture.
• The second highest-grossing animated film of the year (and 13th overall) was set in Mexico and featured all Mexican characters (Coco). It's also favored to win the Oscar.
• At Sundance Film Festival in 2017, Netflix paid $12.5 million to acquire the film Mudbound, a movie directed, co-written and executive produced by an openly gay black woman (Dee Rees) and Amazon Studios paid $12 million to acquire The Big Sick, a movie co-written by and starring Kumail Nanjiani, a Pakistan-born comedian/actor.
• Marvel hired women to co-direct and co-write another Marvel universe superhero movie, Captain Marvel (coming in March, 2019), and cast a woman (Brie Larson) to play the titular character.
What is not surprising in the above facts is the talent that is represented. What is surprising is that every single one of the above movies mentioned were green-lighted and created in a studio system that has been so entrenched in its homogeny that it was possible to never see a year like 2017, where women and filmmakers of color were given real opportunities to succeed. While we know it may not last, we cannot ignore the current climate, which is reaching its emotional and possible money-making peak with the release of Black Panther (already breaking records), the latest movie from the Marvel superhero universe. While we are familiar with the Marvel universe, and frankly could be quite sick and bored with superhero movies, Black Panther truly is different. It's not only unlike any other superhero movie you've ever seen, it's unlike any movie you've ever seen. It's a new world, folks, bask in it.
Black Panther is directed by Ryan Coogler, the 31-year old wunderkind director, whose breakout 2013 indie film, Fruitvale Station, gave MGM and Warner Bros. the confidence to hire him to write and direct their high-stakes Rocky movie, Creed, in 2015, which not only garnered excellent reviews, but made a lot of money (it cost $35 million to make and earned $108 million domestically). Marvel Studios took note of Coogler's creative and financial success and gave him an even bigger assignment: a Marvel superhero movie. Black Panther is only Coogler's third movie and it already has people comparing him to Steven Spielberg, who, at age 31, had directed Jaws and Close Encounters of the Third Kind, to similar critical and commercial success.
Coogler is the perfect director for Black Panther, as his passion, creativity and seriousness reveal themselves in this colorful, exciting and significant movie that isn't as superhero as you would think. When I've mentioned this movie to friends over the last few days, they roll their eyes as soon as they hear the words "superhero movie." But I need to make it clear: Black Panther is a totally different kind of superhero movie. It feels like a superhero movie only about a quarter of the time. The rest of the time, it has enough drama, comedy, social consciousness and actual meaningful dialogue to make you forget the Marvel banner. In fact, Black Panther feels more like a James Bond movie than a Superman movie. If James Bond were socio-politically aware, that is.
I really want to go into great detail about how Black Panther wowed me, but I really, REALLY want you to experience it for yourself, so I will restrain myself. What I will say is that the filmmaking here is staggeringly good. From the cinematography (Rachel Morrison!) to the emotional score by Ludwig Goransson to the stunning costumes by Ruth E. Carter and the production design by Hannah Beachler, Coogler and his team create a world on screen that is colorful, vibrant, energetic and beautiful. The special effects are seamlessly integrated and this movie never once falls into the superhero movie trap of going overboard on the CGI and battle scenes. While there is a lot of action in this movie, it never detracts from the story. For once, all the action feels necessary and serves the story. What a concept.
For most superhero movies, the action and special effects are the reason to see the movie. Not so with Black Panther. The reasons to see this movie are the performances, the beauty of it and the story. Yes, this movie has a story that is not only relevant and aware, it is bold, insightful and powerful. Coogler and Joe Robert Cole crafted a screenplay that is socially relevant and surprisingly funny. It not only is set mostly in Africa, but it embraces and revels in its African setting and heritage. There is a pride of ancestry here that is beautiful and moving.
As much as the craft behind the scenes make Black Panther what it is, it is the performances in front of the camera that make the experience memorable. While the two lead characters, the hero, played by Chadwick Boseman and the villain, played by Michael B. Jordan, are very good, the standout performances in Black Panther are the supporting ones. Lupita Nyong'o, Letitia Wright, Sterling K. Brown and especially Danai Gurira not only flesh out the movie and provide three-dimensional characters, but they are the most interesting and textured ones (I want each of them to have their own movie). While these four are the standouts and dominate the screen whenever they are on it, Black Panther is loaded with great performances, from the characters who just get one line to the superhero star. There are no weaknesses here.
Finally, I would be absolutely remiss if I didn't mention again how funny Black Panther is. If you are tired of how serious superhero movies can be, this one is for you. The light touches are perfectly executed and timed and, unlike some other superhero comic moments, these are never played for laughs or to dumb down the audience. Everything here is sublimely well-toned. There is a sense of fun, enjoyment and love for life that pervades everything, even in the serious and thoughtful moments. Yes, there is even some significant social commentary within Black Panther (as there should be), but don't worry if you don't want to be pounded over the head with lecturing—you'll be so amazed at how seamless everything is, you might not even notice.
In the end, Ryan Coogler has lived up to all the hype, and his own creative potential, with Black Panther, an engaging, entertaining, and sumptuous movie that happens to belong to the superhero genre. But don't let that dissuade you. Black Panther is a movie for our times—and for everyone.