Originally written December 29, 1998
A Mid-Winter Night's Dream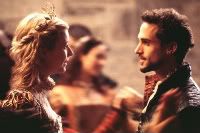 Miramax seems to have a lock on end-of-year word-of-mouth. Last year the hot movie was Good Will Hunting and this year it's Shakespeare in Love. And although this year's model is a much better film, in both cases the hype has turned out to be more than the reality.
The premise of Shakespeare in Love is fantastic. Will Shakespeare (Joseph Fiennes) is a struggling young playwright in 15 England who can't seem to find inspiration anywhere. With producers, rival companies and other playwrights hounding him for his next work, Shakespeare bluffs and tells them all he has a play, called "Romeo and Ethel, the Pirate's Daughter." The play instantly goes into rehearsal, Shakespeare making it up as he goes along. The play turns into "Romeo and Juliet," however, after Will meets his muse, in the form of the upper-class Viola (Gwyneth Paltrow). They embark on a mutually passionate and ultimately ill-fated love affair, which, strangely enough, happens to mirror the events in the play. Funny and romantic, the theorizing of the origins of famous scenes and lines from plays we all know makes Shakespeare in Love a must-see for anyone who loves theatre and especially the Bard.
But past the theatrical inside jokes and truly wonderful character performances by Geoffrey Rush, Colin Firth and Dame Judi Dench, this film just lacks the extra something that would propel it to greatness. Joseph Fiennes, for all his comic timing and energy (much more than his brother, Ralph, who is more suited to heavy drama), just does not possess the depth as an actor that would have made this complex and legendary character jump off the screen. Gwyneth Paltrow is lovely and is always a competent actress, but she is really propped up more by the wigs and costumes than by her character. She ends up only playing off the brilliant actors who surround her, basking in their glow.
Overall, the characters steal the show and make this film a must-see. It is truly literate, so don't worry about going to the Cineplex this time of year if you hate stupid movies. Playwright Tom Stoppard co-wrote the screenplay, which, if you think about it, is almost more intriguing than the film itself. (How would a playwright theorize about what inspired a genius? Well, here's an answer.)
But I just can't in good conscience put this film in the same category as the three films that I've seen this year which deserve the hype this film is getting. Saving Private Ryan, Life is Beautiful and Truman Show are all world-class films that stand out in a year of below-average expectations. What great films like these possess is a grandeur of some sort, be it either of scope, like Ryan, of depth, like Life is Beautiful, or of ideas, like Truman Show. Shakespeare in Love lacks that certain grandeur that propels those few films to Oscar-worthy status. I am aware that it garnered 6 Golden Globe nominations, and, just like its inferior companion of last year, Good Will Hunting, it will most likely garner Oscar nominations as well. While I won't be quite as upset as I was last year if that happens, here's to hoping that the truly great films can rise above the hype and receive the accolades they truly deserve.
My rating: *** worth matinee price