Rock Star a Great Diversion
Originally reviewed September, 2001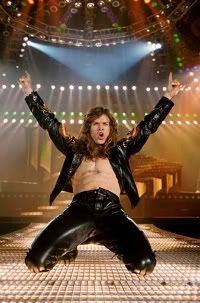 I heard a news anchor comment yesterday that she finally went to see a movie again, for the first time in two weeks, but she said it still felt strange. Of course it feels strange, in the aftermath of the horror of September 11, but the one thing that we learn is that no matter what befalls us, as long as we are still breathing, life goes on. So then it's all about the small steps we each can take to ease the emotional burden that we all are carrying around. We must once in a while turn the television off, and stop reading the newspaper and the newsmagazines, and stop talking about it. Once in a while, we will need to escape. And, when you feel up to it, the movies are a great place to escape, at least for a couple of hours. That's what the theatre is there for. Use it. Release your burden and remember what it's like to be human again.
My recommendation for a 2-hour escape from our gruesome reality: Rock Star. Why? Because it's fun, it's funny, it's mindless, and yet it still manages to stir the soul. Even though I wasn't expecting it, Rock Star manages to remind us that life is worth living, after all, and dreams do still exist.
Mark Wahlberg has become the most unlikely movie star I could've imagined. Even though he has starred in some pretty big hits, including Boogie Nights, Three Kings, Perfect Storm and Planet of the Apes, he still pretty much plays the same character in every movie he's in. He plays Mark Wahlberg. A lower-class, moderately educated, somewhat naïve, down-to-earth, blue collar hero. That's his thing, and now that Woody Harrelson has grown up, it looks like Mark Wahlberg owns it outright. And he uses it again in Rock Star. If you squint real hard, you'll see the same character you saw in Boogie Nights, except with different surroundings. Wahlberg plays Chris Cole, a kid (ok, he's in his twenties) who can't let go of his dream and will not give up until he has achieved it, no matter how deluded he may be. Chris' dream: to be a rock star. But the closest he's ever gotten is being the most famous singer in his high school and being the front man for Pennsylvania's most popular cover band—sorry, tribute band—for a famous hard-rock band. When Chris gets his chance to audition to replace the lead singer he's idolized for so many years, who's been kicked out of the band, his dreams come true. And, as they say, he finds out the truth behind the adage: be careful what you wish for.
Despite Wahlberg's one-note acting style, he still is perfect for this role, which emphasizes physical perfection, a working-class rough edge, and an innocence that is easily destroyed. The real star of this movie, though, is the environment of the time and place. Set in the mid-eighties, when hair bands were all the rage, Rock Star drowns itself in the soundtrack of the times, blending original tunes written to be performed by the fictitious rock band of the film with real '80s hard rock hits from such groups as Def Leppard, Bon Jovi and Motley Crue. The new songs aren't so bad, either. This is one of those movies that makes me want to go straight from the movie theatre to the music store to buy the soundtrack.
But still, while the music is stirring, what makes Rock Star so entertaining is the simplicity of its performances. Nothing fancy is attempted, no great acting is on display. Mark Wahlberg and Jennifer Aniston, who plays his high school sweetheart girlfriend, are just pure and simple, who experience simple emotions and they are so easy to watch. Jennifer Aniston is really carving out a nice film career for herself, as she continues to make smart choices, sowing the seeds for her post-Friends life. The supporting cast is exceptional too, especially the lead guitarist of the band, played by Dominic West. If you're a fan of the Adam Sandler film The Wedding Singer, you won't want to miss the perfect casting of Matthew Glave as Chris's uptight brother.
Loosely based on the real life story of the rock band Judas Priest, who did in fact replace their lead singer with a singer from a tribute band, Rock Star still manages to have a life of its own. And that life is fun, often funny, often touching, and always entertaining. These days its hard to remember that deep within us there still lives that one dream that we had as kids that will never die. I'll be honest and tell you that my secret dream has always been to be a rock star. So, for two hours, I got to live that dream. And I got to escape the reality that came rushing back after the lights came back up. But it helped to ease my burden, and I strongly urge you to find an escape of your own and embrace it.
My rating: *** Worth paying full price