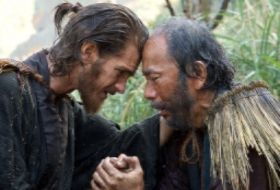 I may not be the least bit interested in religion, but I am interested in history. And history is the most compelling part of Martin Scorsese's new epic, Silence. This film feels like (and is) the culmination of a personal journey for the legendary director—an introspective, cathartic and deeply emotional film about belief—but, while it is a beautiful film made by a legitimate master of his craft, it is far from what we have come to expect from Scorsese, in terms of fast-paced, character-driven crime dramas. That's not to say it's worse…just different. Very different.
Silence takes place in seventeenth-century Japan, an era and region I admittedly knew nothing about before seeing this movie. I had no idea that following Christianity was a crime, under penalty of death. I had no idea that European Jesuit priests would risk their lives trying to propagate Catholicism in the strictly Buddhist country. This film follows two such priests, played by Andrew Garfield and Adam Driver, who travel to the Japanese countryside in the hopes of finding one of their colleagues, played by Liam Neeson, who has gone missing while attempting to convert Japanese peasants to Christianity.
While it may sound like a classic mystery or even thriller setup, Silence is far from being either. Instead, it is a searing rumination on what it is and means to believe in something, no matter the consequences. It is violent, brutal and hard to watch, but, at the same time, deeply emotional and beautiful. I can see how a movie like this can be a filmmaker's ultimate personal and artistic expression of their deepest-felt views and beliefs, much like Schindler's List was for Steven Spielberg, but does that passion alone make a film viable entertainment and/or a worthwhile investment for a viewer? In the case of Silence, there are arguments to be made on both sides.
First and foremost, Silence is writer/director Martin Scorsese's vision, but the vision is brought to life by a supporting team of incredibly talented craftsmen and women who work to make this film beautiful and profound. Leading the artistic charge is cinematographer Rodrigo Prieto, whose gorgeous shots in this film are by far the best thing about this movie. Prieto not only captures the scenery to epic effect, but his use of light and shadow create the mood and atmosphere that is pivotal to the story and themes of this film. Combine Prieto's mastery of light with the brilliant Dante Ferreri's art direction and costume design and the brooding and minimalist score by Kathryn and Kim Allen Kluge, Silence is a feast of the senses: beautiful, moving and masterful.
However, the overall effect of Silence leaves so much to be desired. The pace and tone of the film is at times so heavy, so emotional, that it leaves you worn down, dreading the next scene. While the atmosphere and look of the film are exceedingly effective, the companion screenplay (by Scorsese and Jay Cocks) is made up of one devastating scene after another. I assume the cumulative effect is designed to illustrate the power of belief through suffering, but, for a viewer whose desire is to be entertained and not necessarily to achieve an epiphany of religious enlightenment, Silence is slightly overbearing.
Any Scorsese film features strong performances, and Silence is no different, but even Scoresese's heavy-handedness with his actors gets to be too much after a while, as Andrew Garfield in particular endures the greatest burden, playing pretty much one note throughout the movie, and a pretty emotionally gutting one at that. I can tell you, though, after having just watched Garfield in a similarly wrenching performance in Hacksaw Ridge, nobody will ever question this man's ability to bring it. Garfield is wholly effective—it's just too bad it's so hard to watch.
Supporting performances from Adam Driver and Liam Neeson are also effective, but the best performances are from the many Japanese actors who inhabit the majority of the film. Tadanobu Asano and Issei Ogata in particular create indelible characters, both with more texture and color than any of the Hollywood household names.
But, sadly, all the talent in the world, both in front of and behind the camera, can't make up for Silence's study in suffering. While I appreciate Scorsese's manifesto to his faith and I learned about a part of history I never knew, in the end it was just too much.