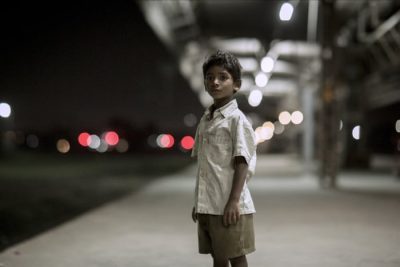 There have been a lot of comparisons, real or imagined, between the new movie Lion and the Academy Award Best Picture winner from 2008, Slumdog Millionaire. Both take place predominantly in the slums of India and both star actor Dev Patel, and, yes, they are both about what it takes for a child to survive in some of the worst conditions on earth—well, ok, they do have a lot in common. But don't let anyone talk you out of seeing Lion just because you've seen Slumdog Millionaire. They are two different movies and Lion deserves to stand on its own and to be seen for its own unique qualities.
Directed by Garth Davis, Lion is based on the true story (and book) of Saroo Brierley, an Indian child who gets separated from his family in India, finds himself in the slums of Calcutta and ends up in an orphanage, from which he gets adopted by an Australian couple. More than 20 years later, as an adult, Saroo is determined to go back to India to find his family. The movie is a powerful and emotional testament to personal understanding and connection to where you came from and who you are.
Dev Patel is getting the awards buzz and applause for his strong and moving performance here, but the real star of Lion is young Indian actor Sunny Pawar, whose indelible performance will leave you shattered. This is fair warning, Lion is tough to watch—seeing children suffer in poverty and intolerable circumstances is beyond difficult—but Pawar brings such a warmth and endearing quality to young Saroo that you will be grinning as your heart is breaking.
Patel is also very strong, as is Nicole Kidman, who plays Saroo's adoptive mother. Both give very good performances, emotional and heart-rending. Rooney Mara makes an appearance as the adult Saroo's American girlfriend, but Lion is not a movie about the performances or the actors, it is about its circumstances and its humanity. The emotional and literal journey Saroo makes will stay with you long past the credits.
Lion is about what it takes to survive, and the determination to never let go of who you are. Make every effort to seek it out, it deserves every accolade this awards season.