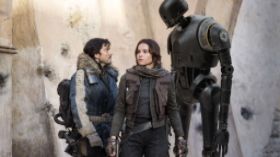 I'll admit that I was pessimistic over the Disney purchase of Lucasfilm back in 2012. Hearing it would be Disney taking over the reins of my most beloved movie franchise, Star Wars, filled me with dread, as I imagined a perceived "Disney-fication" of the stories and characters we love so much. Not only would Disney surely ruin all new movies they make under their banner, but they might even tarnish the warm nostalgic feelings for the original films, due to their over-marketing and over-saturation. It was clearly just a cash grab, right?
Well, two movies into the new Disney/Star Wars era, it looks like I couldn't have been more wrong. Yes, Disney is clearly making money hand-over-fist, but it's also clear that they actually care about both honoring nostalgia the right way AND building new audiences for the future of the franchise. When I saw Disney's debut Star Wars film, Star Wars, Episode VII: The Force Awakens, I was happily surprised. With the lastest release, Rogue One: A Star Wars Story, a "stand-alone" movie set in the Star Wars universe, Disney proves once and for all that they know what they're doing and we, Star Wars fans, had nothing to be worried about.

They are calling Rogue One a stand-alone Star Wars movie, meaning it is not specifically a prequel or a sequel to any of the movies we've seen so far. I humbly disagree with their assessment. You might not have to have seen any Star Wars movies to appreciate the story of Rogue One, but the depth of appreciation for this movie stems directly from an intimate knowledge of the entire franchise and, yes, the events (and some characters) not only reference the original Star Wars movies, but they play off them and even lead up to them.
And, truthfully, the best part of Rogue One IS the depth of reference to the Star Wars characters and stories we already know. That's why it's so much fun. If Rogue One were your first Star Wars movie, I'm sure you would enjoy it, because it's a fun, rollicking and charismatic space adventure movie, but, honestly, Rogue One without its ancestry is just another well-made action flick.
Director Gareth Edwards and writers Chris Weitz and Tony Gilroy do a great job making a movie that's entertaining from start to finish. I absolutely love being in this universe and they go deep into the Star Wars database and mine heavily, inserting so many familiar things, from costumes to characters to places—it's really impossible not to have the warm feels throughout this movie. Stars Felicity Jones and Diego Luna are fine but lack the characteristic warmth and personality of a Star Wars hero we're used to seeing. But overall, the look, the feel, the sound and the ever-improving special effects of this franchise pay off to great result with Rogue One. If you love Star Wars, you'll be more than pleased—you'll be truly optimistic for what comes next.