Original review written: January, 2000
Onegin a Fiennes Film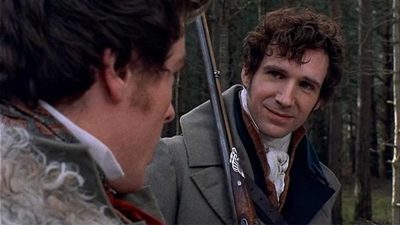 Ralph Fiennes needs a new agent. Either that, or he is just the single-most dreary actor in Hollywood, because that's all he seems to play. Not many people saw Oscar and Lucinda, where he played a goofy dreary character, but in the films we know Fiennes from, he is haunted, dreary or just plain boring. Cases in point: Schindler's List: mean dreary. Quiz Show: airhead dreary. The English Patient: world-class dreary. The Avengers (for the two of you out there who actually paid money to see it): fashionably dreary. The End of the Affair: Obsessive dreary. And now, Onegin: costume period piece dreary.
And I'm a Ralph Fiennes fan!! I've just been waiting for the role in which he can be sunshine and light and leave the room in stitches. But I know I'm only deluding myself. My favorite (and that's an understatement) actress in the world is Jessica Lange. She's won two Oscars, been nominated six times and has made 23 films since 1982. Of those 23, guess how many were comedies. If you're trying to think of what else she's done besides Tootsie, which is the obvious, stop torturing yourself. That's it. One. And even in that one she played the straight guy. My point here is that some actors you have to trust to know their strengths. I love Jessica Lange because she knows her strength is the serious drama. And so I must believe that Ralph Fiennes has to know that his forte is playing intense and dreary, simply because he does it so well.
Eugene Onegin, so we read in press releases, is one of Ralph Fiennes favorite books. Written in 1831 by Alexander Pushkin, Eugene Onegin is a Russian novel about a playboy who sparks a romantic interest in a middle-class country girl, only to realize his mutual affection too late. This film version is directed by Ralph's sister, Martha Fiennes, who does have a true talent for photographing countryside and scenery. In her directing debut, she captures the bleak and dreary…..Russian countryside in winter (HA! You thought I was going to say Ralph's character) superbly and does a fair job of telling the story.
The real issue with Onegin is where Liv Tyler fits into the mix. An American actress (daughter of Aerosmith lead singer Steven Tyler) with no experience before she shot onto the Hollywood scene with highly-touted roles in Stealing Beauty and Armageddon, Onegin is Tyler's first shot at a period piece playing a character with an accent. She does surprisingly well in the climactic scenes, but so much of the film doesn't require her to speak, for we are seeing her through the longing eyes of Fiennes' character, admiring her from afar. This distant perspective unfortunately hurts the story because Tyler has such odd and unique features that it is a disservice for the filmmakers to spend so much time focused in on them without giving her the chance to really act, which would allow the audience to focus on her words, and not her face. But when it comes to the big moments where she does speak, Tyler delivers and is able to keep pace with Fiennes' consistently intense performance.
Fiennes is yet again dreary in Onegin, but at least this time it suits the story and, even more important, the setting. The setting of this film is the real main character, as we are transported to nineteenth century Russia. The photography of this film is magnificent, so much so that I wanted the camera to turn away from faces and go back to the landscape. I recommend this film as much for the photography as I do for the performances.
What Ralph Fiennes' greatest gift probably is, despite his good looks and definite acting ability, is to inspire me to read books. After I saw The English Patient, I wanted to read Michael Ondaatje's book. I am now in the process of reading Graham Greene's The End of the Affair, inspired by Fiennes' recent film of the same name, and now I am inclined to read Eugene Onegin, because I can tell from the film that is must be a powerful book. So maybe Ralph has a method to his madness after all.
As for being dreary, well, everyone has his or her talents. There is room in Hollywood for both Jim Carrey and Ralph Fiennes and plenty of roles for both. That's America, thank goodness.
My rating: **: worthy of paying discount matinee price