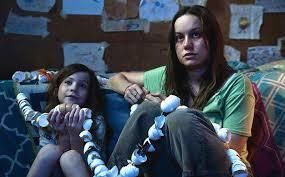 The real world is hard, tragic and depressing enough without having to go to the movies to be reminded, right? It's true, I often look for movies to provide escapist entertainment from an increasingly pessimistic world-view and a growing lack of faith in humanity. And movies that would further plunge me into despair are never at the top of my must-see list. So, you can imagine going to see a movie that is about an all-too-real and all-too-common subject of a woman who has been kept hostage by a kidnapper on his property for seven years wouldn't have been one that I would have been rushing out to see. But this movie, called Room, directed by Lenny Abramson (Frank) and written by Emma Donoghue (from her novel), surprised me and will surprise you and not only should be on your list of movies to see, it should be at the top.

This is the time of year when small, well-made, independent films get noticed and this is the one that deserves all the attention. Room is a deeply-felt, intense, moving and heartfelt movie about the love between a mother and a son that will shake you to your core. There's no other way to say it. If you don't feel this movie deep in your soul, then you really don't have one. It stars Brie Larson in yet another star-making turn (she first made a name for herself in 2013's well-received Short Term 12) and 9-year-old newcomer Jacob Tremblay as the mother/son captives being held by a kidnapper in a "room" on his property, which turns out to be a garden shed in his backyard. We learn that Brie's character, Joy, was abducted when she was 17 and, after her kidnapper raped her, she gave birth to a son, Jake. Jake, now 5, is starting to be able to understand things, so Joy feels they might finally have an opportunity to make an escape attempt. What follows is both thrilling, gut-wrenching, heartbreaking and emotionally riveting. You might expect a film like this to be exceedingly depressing, but it never is. Instead, it is filled with optimism and even moments of laughter. Screenwriter Donoghue never gets caught in the morass of the situation, instead, she tells a compelling story and brings us two deeply-drawn characters who feel real and whole—and together can survive anything. Brie and Tremblay's performances are at times so powerfully real you forget they are actors. Young Tremblay carries the movie, narratively and viscerally—I haven't seen a child performance this compelling since Quvenzhané Wallis in Beasts of the Southern Wild.
I found it hard to shake this movie, hours and hours after I left the theatre, possibly because of the disturbing and haunting reality that circumstances like these in the movie actually happen—way too often—in today's world, but probably the movie stuck with me because Room is such a deeply intimate and moving portrait of resilience, love and, yes, despite its clichéd and corny sound, the strength of the human spirit. Escapism is good, but, once in a while, there's something just right about a well-made movie about the world right here and now.