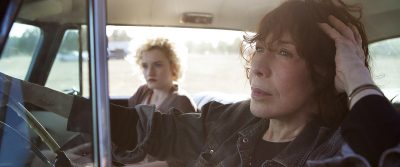 Could this be the year of the female superhero? I mean, the best movie of the year so far, Mad Max: Fury Road, featured Imperator Furiosa, the baddest chick seen on film in a long time, played by Charlize Theron to maximum effect. And, still to come this year are some more movies featuring powerful and soaring stories and performances by women that will, no doubt, dominate headlines, critics' adoration, award-season buzz and, if we're lucky, box office success. Coming in October are Suffragette (opening 10/23), starring Carey Mulligan, the true story of the fight for the women's right to vote, Sicario (opening October 2), starring Emily Blunt, about an FBI agent fighting the drug war at the border, and Freeheld (opening 10/2), starring Julianne Moore and Ellen Page, the true story of a lesbian New Jersey police officer who fights to have her pension benefits transferred to her domestic partner when she is diagnosed with terminal cancer. And then, of course, there will be Jennifer Lawrence and Daisy Ridley, who will be masters of the world in November and December in the final installment of the Hunger Games franchise (Lawrence) and the re-awakening of the Star Wars behemoth (Ridley), respectively. Yes, there are no lack of powerful roles for women so far this year and still to come, and this is an exciting thing, and yet we haven't even mentioned the baddest, boldest and most kickass woman that has been on screen this year. Forget Katniss, forget Furiosa. If you want a real superhero, meet…Grandma.
That's right, Grandma. 75 years old, lesbian, feminist, misanthrope, and could kick your butt from here to Nashville. You probably wouldn't believe me until I tell you she's played by Lily Tomlin. Grandma, a new film directed by Paul Weitz (About a Boy), brings Tomlin back to the big screen in a starring role for the first time since I Heart Huckabees in 2004 and, if you ask me, it was well worth the wait. In this not-so-delicate but incredibly charming little film, Tomlin plays Elle Reid, a widowed college professor who lives alone and is estranged from her daughter (deliciously played by Marcia Gay Harden). She does, however, have a close relationship with her teenage granddaughter, Sage, played by Julia Garner, so when Sage shows up at her door one morning, revealing she's pregnant, Elle knows it's up to her to offer guidance, help and, if necessary, a good dose of reality. However, the one thing Elle can't help Sage with is money, and that's what she needs, since the abortion she's carefully considered (and wants) costs $630. So the adventure begins, as grandma and granddaughter embark on a day-long trek across Los Angeles in search of funds, from friends to exes, to loser boyfriends and even ending up at Mom. It is a small, tight, intimate and refreshingly open movie about relationships, family, love, and the things we do to navigate life's challenges and keep us from being honest with each other—and ourselves.
To say that Tomlin dominates this film goes without saying. This is her movie. Although Garner does a wonderful job at riding along and providing balance and counter-balance, and there are other terrific supporting performances along the way, this is all Lily, all the time. And it is an absolute thrill to see her in near-vintage form, as she wisecracks and soft-touches her way through dialogue, making everyone else in the room look foolish. Tomlin has a grace and a poise to her, even when she seems to be flailing, that is so rare. It's a strength that is so Hepburn-esque—something we just don't see on screen anymore. She may not have the true acting chops that she once had, but she still has the presence, and every bit of screen time she has is imbued with her force of personality. She has always been able to merge pathos with humor, and director/writer Weitz says he wrote the screenplay with Tomlin in mind, and it's clear, as she embodies this character with every bit of her nuanced force.
No, this movie won't play well in the Heartland, what with all the abortion and gay talk, but this isn't an "issue" movie. If you can find a way to put the plot aside, you'll see this is a movie about characters, and a movie about humans relating to each other, which is universal. We all grow older, we all end up needing to connect with someone—sometimes the last ones we'd ever thought we would. Grandma is smart, powerful, endearing, and touching—just like Lily Tomlin herself. Just the kind of superhero we all need.