Being John Malkovich an Offbeat Gem
Original theatrical release date: October 29, 1999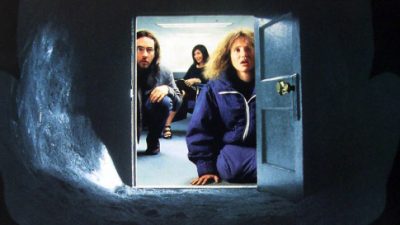 Remember how you felt the first time you saw a Coen brothers film? Remember that curious look on your face and the questions you would ask yourself? Questions like, how did they think of that? and how strange are these guys? Well, thankfully, the Coen brothers were only the beginning of the new era of offbeat filmmaking. For every mainstream fluff piece like Armageddon, there's There's Something About Mary. For every Prince of Egypt, there's South Park: Bigger, Longer and Uncut. And, for every Titanic, there's Being John Malkovich, the latest in what is becoming a long line of offbeat, curious films with some imagination and honest-to-goodness great writing.
Being John Malkovich was released in 1999 and, of course, the critics fell in love. An independent collaboration from Propaganda Films, its offbeat premise took everyone by surprise. Directed by celebrated and legendary music video director Spike Jonze and written by newcomer Charlie Kaufman, Being John Malkovich has everything a film lover should want: a great, imaginative story, offbeat and complex characters, stars who aren't acting like stars and just that little something that makes you sense that you're seeing something special.
If I told you the story you wouldn't believe it, so I won't. You probably know the gist of it anyway, and it is utterly fantastic. The film stars John Cusack (almost unrecognizable) as a struggling puppeteer who discovers an unusual way to earn money and fame. He is married to animal lover Cameron Diaz (totally unrecognizable), who, through her husband's new discovery, discovers some things about herself. Caught in the middle is the conniving and self-involved Catherine Keener (careful, Catherine, you're going to get typecast), who was nominated for an Oscar for Best Supporting Actress for her performance in this film. And, last but not least, the performance of the film belongs to, yes, John Malkovich himself, who demonstrates he has by far the best sense of humor in all of Hollywood.
Disguised in humor, there are real issues and glimpses into the human condition and psyche at work in this picture. This is no fluff piece. There are real characters with real desires and real fears. There are issues of sexual orientation, reincarnation, self-discovery, manipulation, and the innate desire in all of us to escape our existence and know what it is to be someone else, even if it is for fifteen minutes. But don't let these important ideas obscure the fact that this is just the most fun you'll have watching a movie in years.
This film is truly an original. It is wacky, it is clever, it is so bonafide original that you'll wonder how you ever sat through Titanic in the first place.