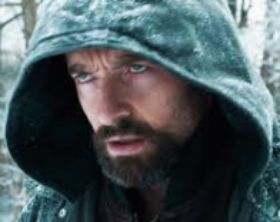 Remember the good old days when the most mind-numbing thing in a movie was Superman and Zod slinging each other into buildings endlessly? Ah, I miss July.
Summer is officially over. The dark clouds of serious movie season have descended upon us. The running gag is the more depressing a movie is, the more the critics love it and the better its chances at awards glory, so the studios save their sad, morose, open-your-vein tales for the end of the year—to coincide with awards season—which is perfect for holiday get-togethers with the family. Well, folks, the fun is starting early this year with Prisoners, a movie so uplifting and filled with sunshine it makes Requiem for a Dream look like a "Saturday Night Live" skit. [Side note: if you haven't seen Requiem for a Dream and are intrigued, don't be. Desson Thomson of the Washington Post called it "A graphically, depressing downward spiral to hell." That's generous. I don't even think it was graphic.]
Ok yes, I'm exaggerating, but here's the thing. Requiem for a Dream was the most depressingly miserable movie experience I've ever had, but at least I can say Darren Aronofsky's film had a stylistic resonance; the experience of the film was influenced by its characters' drug-addled states of mind, so a fantastical, dream-like film lay over everything, providing a bit of a distance from the misery for the viewer. Prisoners, however, offers no such reprieve. Director Denis Villeneuve (Incendies) goes for realism in his tale of a father's grief following an apparent abduction of his six-year old daughter and her friend. And while Prisoners is nowhere near the "downward spiral to hell" that Requiem for a Dream sets out to be, its true-to-life-ness makes its intensity that much harder to bear over the course of its two hours. There is no escape into stylistic elements here—this is just brutal honesty: the world is a cold, hard place. And that makes this a cold, hard movie to sit through.

Usually, as a rule, anything is better with Hugh Jackman in it, but here his intensity is a liability. Jackman stars as a Pennsylvania father who takes it upon himself to do whatever it takes to get answers when he feels the local police detective, played by the nicely understated Jake Gyllenhaal, isn't doing enough to find his missing daughter when she vanishes while playing with a friend in their neighborhood on Thanksgiving. Jackman always goes all-out as an actor, which usually suits him, but here, where he needs to play an ordinary, relatable guy—not a superhero or a larger-than-life revolutionary—it's difficult because he just naturally plays everything bigger than other actors. I don't think Jackman has a middle gear and that detracts here when we desperately need some downshifting in the emotional intensity once in a while.
The story and the movie play like an extended "Law & Order" episode. If you've seen more than a few of those, you'll see the plot twists in Prisoners coming a mile away. That's not necessarily a bad thing, if it's done well—meaning if the performances and the writing and the mood of a film are good enough to make you overlook little things like predictability or lack of imagination. Sadly, Villeneuve, who is handed a pretty stacked cast for his first major studio picture, instead squanders the talent at his fingertips (which also includes renowned cinematographer Roger Deakins) and delivers a pretty run-of-the-mill procedural that has neither texture nor subtlety. This is an oppressive, relentless, heartbreakingly intense movie that never lets up. Never. Lets. Up. It was as if the title referred to us in the theatre. I seriously almost couldn't take it anymore. It just needed to end.
Look, some people enjoy movies like this. They like to try to delve into the deeper, darker, twisted side of human nature. They like to try to figure out the twists and turns of plots—the "whodunits," if you will—and they like to follow along with a dedicated police officer as he tries to stay one step ahead—or behind, as the case may be—of the evil doer. There are some who are intrigued by the ethical and moral vagaries of vigilante justice. I understand all of this and you are welcome to it. This is a stellar cast: Hugh Jackman, Jake Gyllenhaal, Maria Bello, Melissa Leo, Paul Dano, Viola Davis. These names and their promise of great things got me in the door. I grant you all of this. And if all of this, the exploration of dark themes, including vigilantism and detective work, had been delivered with all the potential of that cast, then Prisoners would have lived up to its billing. But, sadly, what it turns out to be instead is a heavy-handed, recklessly depressing, full-tilt soul bomb of a movie that left me craving a hug and a milkshake. And longing for one last glimpse of summer.