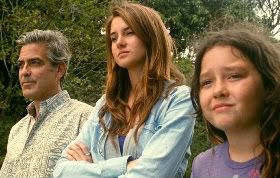 This may seem an odd way to start a film review, but have you ever been to Amoeba Music on Sunset in Hollywood? They call themselves the world's largest independent record store, but that's not really accurate. It feels like they are the world's last record store, period. Music, movies and books have all gone digital now, so you can get everything you want from the comfort of your own home, no need to schlep down to the local record store and search through hundreds of items for the one you're looking for. But, for those of us born in the seventies or earlier, record stores were a way of life. They were where we would go, especially as teenagers, to get out of the house with our friends, to surround ourselves with music, seeking comfort and discovery in the endless bins of vinyl and cassette—and yes, even cds. There was nothing more sacred to me than buying a new record and taking it home, unwrapping it, and sitting in front of the speakers as it played, staring at the jacket, reading the notes, admiring the photographs and following along to the printed lyrics on the sleeve. I may have bought the record initially because of one song, but some of my most favorite songs, still to this day, were what're called "deep tracks," the gems hidden on side B, tracks 4 and 5. Will kids today ever know a B-side?
When I walked into Amoeba Music tonight, I walked back in time. I saw vinyl, cassettes, VHS tapes and posters that reminded me of my youth, when music and movies consumed me (yeah, maybe not a lot has changed) and defined me. I even saw a literal piece of my actual childhood. As I was checking out (of course, I couldn't walk in there without buying something), I looked up and saw a row of collectible lunchboxes on display. And there, on the far left of the bottom row, I saw my lunchbox—the one that my mom would put my lunch into every day when I was a kid. Ok, I'll admit it, I'm not proud: it was a Fonz lunchbox. And I loved it. And when I laid my eyes on that lunchbox, standing in the middle of that store, surrounded by the smells, sights and sounds of my adolescence, I melted into a state of nostalgic euphoria that was only shaken by the $75 price tag for my treasured piece of memorabilia. I guess memories do have a price.

But I have to wonder whether my emotional reaction to that store and that lunchbox was heightened by the fact that we had just walked out of the Arclight theatres that are next door, where we had just seen The Descendants, the new George Clooney movie. No, The Descendants isn't a nostalgic film, or about music or movies or the need for middle-aged Gen-Xers to revisit their youth. But it left me in an emotional place to welcome nostalgia and to get in touch with what matters and mattered to me. And so, for that, I blame the movies. Again.
So, yes, The Descendants is a good movie. It will affect you and stay with you, and may cause you to be a blubbery mess in the middle of the "Rock F-M" aisle. But I will not do to you what everyone else did to me. This movie has been overblown by the movie bloggers since it debuted at Telluride Film Festival in early September. Yes, maybe it's my own fault for listening and reading to too many people who cover movies and festivals. Yes, maybe it's my own fault that I had been looking forward to this film since September and, in the time since, as it has been universally touted as the Oscar Best Picture front-runner. Wow, no pressure there.
Well, I won't do that to you. I'm not going to sit here and tell you The Descendants is the greatest movie of all time. Hell, I don't even think it's the best movie I've seen this year (still nothing can touch Tree of Life for me), but it is definitely a must-see.
The thing with The Descendants, and you need to know this, is it will not blow you away. It does not shock you or surprise you or intimidate you or wow you. There are no gimmicky visuals, no breathtaking special effects and, despite George Clooney's solid and believable performance (his best yet), no acting powerhouses. The Descendants relies on those two little things that get so overlooked and ignored these days: character and story. This film, by director Alexander Payne, is a layered tapestry of human interactions and experiences, a look at life—and death—in what seems a most simple and ordinary way. But how it delivers its story is far from ordinary, and will move you, amuse you and stay with you.
This film can get serious, fair warning, but there is so much humor and humanity sprinkled throughout to make the experience a full-blooded and fulfilling one. Clooney's performance sparkles, as does the performance of Shailene Woodley, who plays his rebellious teenage daughter, but the real star of the film is the setting of Hawaii. Never before have I felt a sense of place more than in this film. The Descendants is a film about history—in every sense. It's about knowing who you are and where you come from. It is about family, forgiveness and the faults we spend our lives attempting to overcome in ourselves and reconcile in the ones we love.
So, other than this review, please try to avoid reading too much of the hype about this movie and just go see it. It may not change your life, but it is a worthwhile enough experience to make that schlepping down to the movie theatre worth every inconvenience. And, if you happen to see a record store next to the theatre, my advice: stop in and get back in touch with who you are and where you came from.
Just don't buy the lunchbox.