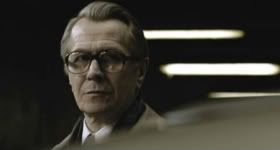 What am I missing? Apparently, a lot. Tinker, Tailor, Soldier, Spy is supposedly, according to nearly all critics, a brilliant, exciting, suspenseful and well-made film adaptation of the John LeCarre classic spy novel. I just didn't see it.
For me, Tinker, Tailor, Soldier, Spy was a cold and calculating morass of characters and plot devices so densely intertwined that I was so lost early on that by the time I caught up, I had stopped caring. There's probably a reason why there had never been a big-screen adaptation of the famous novel before now—because there is just too much going on and too much ground to cover to tell the story in a two-hour film. Hell, it required a SEVEN-part miniseries back in 1979.
Maybe the film would have been better suited in the hands of a different director, who knows. Swedish director Tomas Alfredson's only previous English-language film was 2008's Let the Right One In, a chilling and brave film about a child vampire. Alfredson's style is gritty and stark, which would lend itself to the dank and heartless environs of Cold War spies, but when it comes to cramming in all the plot machinations and necessary character development, Tinker Tailor needed more than style: it needed Cliff's Notes.
It's not that Alfredson didn't have a stellar cast to work with, including Tom Hardy, Colin Firth, John Hurt and the brilliant Gary Oldman, who is being praised for turning in one of the best performances of his career. Unfortunately, Oldman's performance was too one-note for me, as he laid on the quiet, chilly and calculating spy routine a little thick. I would have loved to have seen Oldman use more of his skills here, but Alfredson reins him in so much that Oldman couldn't be more restrained if he were asleep.
Overall, Tinker, Tailor, Soldier, Spy left me baffled and bored. I'm definitely in the minority here, so if this is your kind of movie, don't let me keep you from going. But you might just be better off buying the book. Then maybe you can tell me what happened.