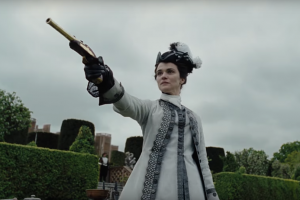 The classics exist for a reason. Sometimes the best screenplays are the ones that take a familiar story and put a spin on it, making it unique, original and imaginative. Even stories that are familiar AND based on a true story can be made to be imaginative and clever at the hands of a good writer. Let's just be honest: a good writer can make anything old new again.
Deborah Davis had never written a produced screenplay before. Tony McNamara is a writer whose entire career had been writing for Australian television. So why should we care about Deborah Davis and Tony McNamara? Because they have written one of the best screenplays of 2018, and if you love snappy and vicious dialogue and inventive, clever, ribald and saucy new ways to tell a familiar story, you will love their movie, The Favourite, directed by Yorgos Lanthimos.
And I don't even know if the writing is the best thing about The Favourite. The direction is energetic and inventive, the production design is absolutely gorgeous, the costumes are magnificent and the acting, well, the acting is devastatingly good. And, on top of all that, The Favourite has found a way to make a movie set in 18th century England relevant to Americans in the 2018—I dare you to not find subtext here.