I've never been one to love movies that feel like plays. I always feel like there is something missing without the wide vistas, dramatic cinematography, big casts and multiple settings. Most movies that feel like plays, or are actually based on plays, are set in a single room with a few actors and it always felt too enclosed, like the medium wasn't being used to its full potential. Of course, with COVID restrictions in the past couple years, there have been many more films that were forced to be very insular, small and narrowly-scoped, much to my chagrin.
But, then again, there has been at least one film in each of the past three years that has blown my theory to bits: The Father (2020), Mass (2021), and Good Luck to You,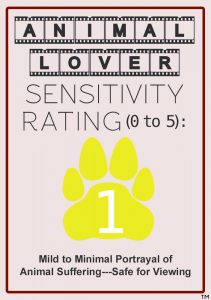 Leo Grande (2022) are all films that are small–in scope, setting and cast size–and yet are absolutely fascinating and intriguing explorations of the human spirit, soul and conscience, more than making up for their lack of physical movement or expansive cinematic movement.
And now comes a film that may finally rid me of my bias altogether, a nearly perfect film that feels incredibly like a play, while still managing to feel like a widescreen, gorgeous, cinematic achievement of the highest degree. And this kind of duality can only come from the mind and talent of writer/director Martin McDonagh, who has found all the beauty in language that many think is theatre's exclusive domain, while also creating a true cinematic experience that is second to none. The film is called The Banshees of Inisherin, and I suggest you start practicing how to say it, because it's going to be in the conversation all the way to Oscar night on March 12.

If there's anyone who can find the perfect balance between theatre and film, it's McDonagh, a writer who began his career as a playwright, enjoying success with plays such as The Beauty Queen of Leenane and The Cripple of Inishmaan before making his first short film, Six Shooter, in 2004. His conversion to film was complete upon the release of his debut feature film, In Bruges, in 2008, a critically-acclaimed and beloved film which earned him his first Oscar nomination for Best Original Screenplay. He followed up In Bruges with Seven Psychopaths in 2012 and found his greatest success to date in 2017 with Three Billboards Outside Ebbing, Missouri, which earned him a second Oscar nomination for Best Original Screenplay as well as for Best Picture (and did win the Oscars for Frances McDormand and Sam Rockwell). Most directors follow up such massive success by giving into the temptations of a big payday that would come from making a superhero or franchise movie, but McDonagh chose instead to use his artistic capital to go the other way, and make his most personal film yet.
McDonagh made a name as a playwright with plays set in Ireland that are centered around Irish people and culture, and yet none of his films had even a hint of Irish in them. Until now. The Banshees of Inisherin is set on the fictional island of Inisherin, off the western coast of Ireland, in 1923. The island is small and the population sparse and spread out, separated by farms and connected by gravel roads. The Irish Civil War plays out in the far distance on the mainland, but, for the residents of Inisherin, the only excitement in their lives is playing out between two former friends.
One day, seemingly out of the blue, Colm Doherty, played by Brendan Gleeson, decides that he is no longer interested in being friends with Pádraic Súilleabháin, played by Colin Farrell, even though Colm and Padraic have been best friends forever. When Colm gives Padraic the news that he no longer wants anything to do with him, Pádraic is at first confused, then hurt, then thinks it's just a joke. But when it finally sinks in that Colm isn't joking and actually means it, Pádraic struggles to find rhyme or reason for it, but only makes things worse when he continues to press Colm for an explanation. Things continue to escalate as Pádraic continues to press and Colm continues to push Pádraic away, and, eventually, the entire island is involved in this strange and painful end of a friendship.
What seems like a very simple premise becomes a labyrinth of emotions and a treatise on human relations in the masterful hands and words of McDonagh, who should easily land his third Oscar nomination for original screenplay, if not the statue itself for this contained, beautiful and heartbreakingly existential tale of innocence lost.
But McDonagh's textured script would be nothing without the performances that bring it to life, and, much like in In Bruges and Three Billboards Outside Ebbing, Missouri, McDonagh has a flair for creating roles for great actors to excel in, and this film is no different, as the entire cast is gifted with characters to dig their teeth into, and they universally deliver monumentally passionate performances that resonate on every level. While Gleeson and Farrell enjoy the majority of screen time and star billing, the supporting performances are on par with the best you'll see all year, particularly from Kerry Condon, who, as Pádraic's long-suffering sister, brings the heart and pathos to the story, and Barry Keoghan, a beloved character actor who has delivered consistently excellent work for years, but should finally get the recognition he deserves for his role as Dominic, the hopeful yet dimwitted policeman's son whose abusive father cannot break his spirit. Gleeson is always good in everything, and this film is no different, but the crowning achievement of this film lies squarely in the performance turned in by McDonagh's muse, the most under-appreciated actor of his generation, Colin Farrell, who delivers the best performance of his career–and that's really saying something.
To label Farrell's performance as any one thing, like heartbreaking or nuanced, is to oversimplify it and ignore everything he does in this role. The road that Pádraic travels emotionally in this film is all at once hilarious, pathetic, sad, heartbreaking and chaotic, and Farrell mines every bit of meaning in each one. Most compelling is Farrell's gifted navigation from one emotion to another, and his ability to blend humor and drama sometimes within the same scene, or even within the same line. It's impossible to take your eyes off him, for fear of missing a glance, a twitch or a single change in facial expression that is as crucial to the story as any dialogue.
Farrell hasn't been given too many chances to show off his comedic skills in his career, but McDonagh seems to have been the director that understands each of Farrell's unique gifts, and is the best director to bring all of them out. In this third film Farrell and McDonagh have made together, it feels as if there is a rhythm in their work, and the humor comes out of their mutual understanding of the character and of the story. Farrell's comedic skills are vastly underrated and this film is much funnier than you would think, mostly thanks for Farrell's deft timing and unabashed charms. McDonagh has always been a master of dark comedy, and he is certainly at his wicked best here.
As for its play-like characteristics, The Banshees of Inisherin is a simple tale told in simple places: a pub, a couple of houses, and the rest of the scenes are shot in the lush countryside of this gorgeous and wind-swept isle. Cinematographer Ben Davis makes full use of the sumptuous and wild environs (the film was shot in Inishmore in County Galway's Aran Islands and Achill Island) as the raw beauty of the place mirrors the animalistic cruelty that is carved out by the inhabitants towards each other.
Speaking of animals, the role of animals in this tale is significant and just as meaningful as the humans, as McDonagh communicates as much through them as he does any of the characters.
As the story wends its way to a climactic conclusion that will frustrate some and satisfy others, McDonagh proves his genius, as he avoids all predictability and trope, taking the audience on a journey of the human heart that reveals all its inherent conflict, darkness, compassion, sorrow and tenderness in a cinematic experience that is both expansive and intimate, daring and tender, cruel and sweet, funny and twisted. You won't be able to look away.