They do tend to come in threes, and Hollywood lost three influential players in the last few weeks (not including the tragic murder of publicist Ronni Chasen, whose work was done behind-the-scenes). Dino DeLaurentiis, Irvin Kershner and Leslie Nielsen all made their mark on Hollywood, but, for me, each had a unique influence on my childhood cinematic experiences.
Leslie Nielsen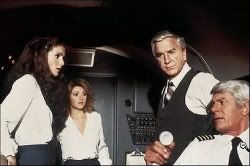 Like milestones, there are seminal movies in every kid's life that mark points of passage. For me, Airplane! was the movie that shaped my sense of humor—it was the first time I ever consciously remember something being FUNNY. The movie was a revelation —-for an American kid living overseas who knew nothing but the over-my-head hijinks of Benny Hill , Airplane's simplicity and downright silliness was like candy—I just couldn't get enough. I can still quote more lines from this movie, 20 years later, than I can the show I watched last night.
To this day, I can't see or hear any of the following without thinking of it in Airplane! context:
-"Everything's Coming Up Roses"
-Shirley
-white zone/red zone
-gladiators
-Mayo Clinic
-Roger, Clarence or Victor
-Kareem Abdul Jabbar
-any Jewish superstar athlete
-"Staying Alive"
-and whenever anyone says "striker," I just HAVE to say "Striker? Striker?" and then mimic someone punching someone out. Just can't help it.
But of course, the best lines in the film were reserved for the inimitable Leslie Nielsen, who played the spoof-tastic doctor. From the moment we meet him, wearing his stethoscope, Nielsen delivers each line with perfect timing and a dignity that makes "and don't call me Shirley" all the more side-splitting.
So next time you are tempted by
"this woman has got to get to a hospital,"
"The hospital? What is it?"
to say:
"it's a large building with patients, but that's not important right now,"
just think of Nielsen, who perfected the dry one-liner delivery, and thank him for playing a role in the shaping of an entire generation of smartasses.
Irvin Kershner:

Kershner had a prolific career as a director. He directed a Bond film (Never Say Never Again), RoboCop sequels, and Roger Corman movies. But let's be honest. Kershner's resume, as far as an entire generation is concerned, has only one credit that matters: Star Wars, Episode V: The Empire Strikes Back.
Yes, I'm a Star Wars fan. And, like any good fan, I salute The Empire Strikes Back as the unquestioned best of all the films, Kershner's direction playing a significant part in its success. Empire is the darkest film of the franchise, the most cerebral, and has the most soul. Certainly the franchise is George Lucas' brainchild, but Empire Strikes Back was Kershner's vision.
And it was no small feat. Remember this: The Empire Strikes Back was a sequel. And not just any sequel, it was the sequel to a groundbreaking and record-setting film that coined the term "blockbuster," was nominated for Best Picture and broke every box office record there was. Think of all that Star Wars has influenced in popular culture since then and imagine if it had never been. If The Empire Strikes Back had fallen flat, there would be no "Star Wars" as we know it today. It simply would have been another single great movie ruined by a lackluster sequel.
I can think of only three sequels that equaled or surpassed the original: Godfather II, Toy Story 2 and The Empire Strikes Back. All three are now part of legendary film franchises that would not exist if the second film had not succeeded.
So yes, if you are a Star Wars fan, you owe almost as much to Kershner as you do Lucas for your Star Wars lunchbox, your Princess Leia Halloween costume and your R2-D2 plush toy (yes, I did have one).
The Force was strong with him.
Dino De Laurentiis: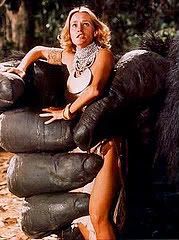 I know that De Laurentiis produced a lot of movies. But I only care about one: King Kong.
I'll give you a moment to let that sink in.
Ok, I know that King Kong (the 1976 version), was campy, over-the-top and incredibly cheesy. But that was De Laurentiis at his best. What De Laurentiis was also really good at was spotting talent. Do you know who the male lead was in King Kong? A mostly unknown Jeff Bridges. You may have heard of him now. Also in the cast was Charles Grodin. But, in my little world, the most important part that De Laurentiis filled was that of Dwan, the beautiful blonde who becomes the love interest for the Big Ape. When he was casting Dwan, De Laurentiis was looking for someone fresh, new and beautiful. But he also wanted someone with a special something—more than a pretty face. He found his leading lady through a modeling agency, someone who had never acted before in her life and cast her in his big-budget blockbuster. Now, 33 years later, that actress has two Oscars and is considered one of the finest actors of her generation. Her name? Jessica Lange.
And anyone who knows me knows how much I love and respect Jessica Lange and her influence on my life.
Dino may have been a schlock-meister, but he sure knew a good thing when he saw it. After seeing her in King Kong, Bob Fosse wrote a part for her and then cast Lange in All That Jazz, and Bob Rafelson cast her as the female lead in The Postman Always Rings Twice, opposite Jack Nicholson. And then came a little film by Sydney Pollack named Tootsie—and the rest is history.
The Academy Award ceremony in February will honor all the members of the film community who passed this year. I'm sure each one of them touched someone in their audience the way Leslie, Irvin and Dino touched me. Rest in peace.